Free Webinar: How to automate manual processes in your business
28 Jan 2021 10:00 - 10:30
Location
Online Webinar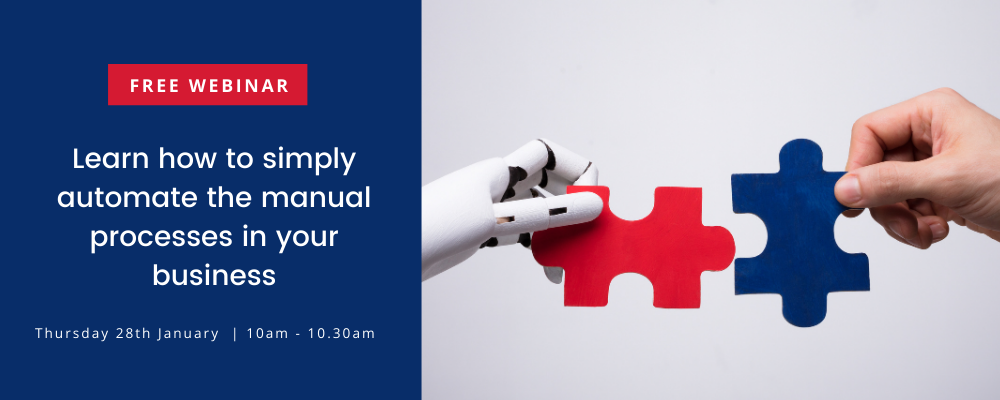 Webinar to offer free advice on how to automate manual business processes
Digital transformation is a much-discussed topic, but often businesses don't know where to start and what processes and data they can digitalise. Robotic Process Automation (RPA) is a low cost, easy to implement solution which can make a significant difference to your business.
RPA enables you to automate manual and routine tasks saving time and costs and improving accuracy. Much like human interaction, RPA mimics keystrokes and mouse clicks made by employees.
However, unlike humans, RPA does not require a physical screen and works in a virtual environment to the complete tasks, making the entire process cost effective.
RPA
is suitable for all types of businesses and can be utilised by Enterprise level companies and SMEs. Despite it being a complex solution, it is easy to implement and can be installed in a matter of days and for a relatively low cost, which can work out at under £400 per month.
On Thursday 28th January technology providers
EBC Group
will be holding a 30 minute webinar to explore
what RPA
is and give practical, real-life examples of how businesses already use it and what benefits they have been able to achieve.
There will be an optional Q&A at the end of the session where experts will offer advice to your business process issues.
https://www.ebcgroup.co.uk/print/data-solutions/robotic-process-automation
Previous attendees of this webinar have said that they been able to implement meaningful changes to their processes based on the information they learnt. So, if you are looking to take your first step into digitalisation or have already started but want to learn more about automation, this is the webinar for you.
Free to attend, the webinar will take place on Thursday 28th January, 10am.
To register CLICK HERE