The Chamber Patron Group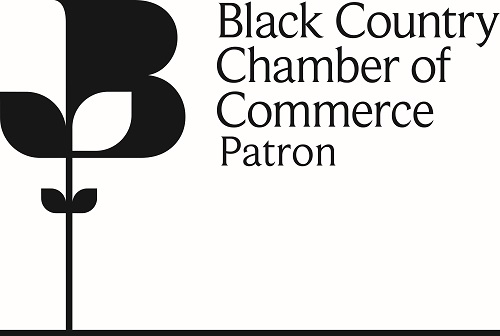 Being a Chamber Patron
Becoming a Chamber Patron provides a bespoke package to leading companies based in, or servicing the Black Country, and allows Civic Businesses to act as Ambassadors for our Chamber; raising the profile of their brand at the highest levels.
Our Chamber Patrons reflect the strength of the Black Country Economy and demonstrate real social impact from our joint work. We actively look to attract the major names and strategic businesses from across the area to become part of this exclusive and influential group of businesses.
The Value to you as a Chamber Patron
Becoming a Chamber Patron offers major profile-raising opportunities as well as the opportunity to access and network with politicians, their advisers and senior business figures from across the Midlands, plus other Chamber Patron members across the country in four main areas:

• VIP Networking & Events – Invites to the British Chambers of Commerce Conference and Black Country Chamber of Commerce Awards, along with access to select business lunches & dinners.

• Contact with Influencers – Regular local Leader Briefings with MP's, MEP's, Local Authority Leaders, LEP and other stakeholders. Annual visit to Westminster and invites to meet Bank of England representatives to discuss the impact of economic policy and interest rates on your business.

• Leading on Policy Development & Local Campaigns – On issues that matter to you and the local economy – including schools, skills, social impact, transport issues or acting as mentors to small and new business leaders with exclusive opportunities to represent the Chamber through press and media interviews.

• Brand Awareness – Through social media campaigns, a dedicated page on the Chamber website, regular features in Prosper magazine, high brand visibility at Chamber events and in the member's directory.
Some of the Benefits in the Bespoke Chamber Patron Package:
• Work with our Chamber CEO
• Annual Dinner with West Midlands Chamber Patrons
• Attendance at the British Chambers of Commerce Conference
• Lead as an Ambassador on a campaign and topical issues for the Chamber
• Involvement with the Chamber Social Impact Campaign
• Priority Invitations to VIP meetings
• Complimentary Space at Chamber Annual Exhibition
• Complimentary Dinner place at the Patron Table at the Chamber Awards Evening
• Your Corporate logo scrolling across the Chamber website
• Complimentary events
• Bespoke invitations to select business lunches & dinners with high profile speakers such as (Summer Ball/Signature Awards etc.)
• Chamber Patron Debate Dinner
• Guaranteed editorial in Quarterly Prosper business magazine
What our Chamber Patrons say
"We are proud to support and endorse the work of Black Country Chamber of Commerce. Having been Chamber Patrons for many years we see the value of the service that the Chamber provides, giving access to stimulate and encourage corporate growth and sustainability."
"Since becoming a Chamber Patron our brand awareness has grown immeasurably. It has helped us to become 'properly' connected and raise our profile in the Black Country."
For more information please contact Gail Arnold, Head of The Platinum Group & The Chamber Patron Group, on 01902 912306 or 07810 377819. Alternatively, you can contact us via email by clicking here to discuss this exclusive business opportunity in more detail.