Transport
Transport has consistently been flagged up as an issue throughout the region, with the current infrastructure networks in place being unconducive to the growth and development of the Black Country business community. As a Chamber, we are committed to tackling the transport-related issues that are faced by local businesses on a daily basis, harnessing an environment that will enable them to thrive in an increasingly inter-connected world. Let's work together to get the Black Country moving!
Through this campaign we aim to raise the awareness and profile of transport and infrastructure issues in the Black Country on a national scale, lobbying to support the needs of the local business community.
Campaign Aims
Moving fowards, five main areas have been identified for the campaign that we would like to see action on:
Equal Investment in Infrastructure Compared to Other Regions
With regards to government funding, the Black Country has been left behind as is not getting its fair share of investment in infrastructure. For example, total transport public expenditure per capita in the West Midlands was £236 in 2015, compared to London of £600 and Scotland of £514. Therefore, we are calling for increased investment committed to the region in order to optimise prosperity.
Better Usage of the M6 Toll
By 2040, road congestion in the West Midlands is estimated to cost £10bn a year in lost time,as well as £2.2bn for the freight industry unless action is taken. With this in mind, as a Chamber, we are calling for more effective use of the M6 Toll road, including free access during emergency and critical times, which will be key for road congestion moving forwards.
Greater Investment in Broadband Infrastructure
With regards to broadband infrastructure, connectivity is becoming increasingly vital for businesses and as a region we need to make sure our digital infrastructure is suited to the needs of modern day operations and processes. Therefore, we as a Chamber are calling for faster broadband and quicker installation to ensure businesses remain competitive in an increasingly digital economy.
Please click here to discover more about super fast broadband in the Black Country.
Support for HGV Driver Recruitment
HGV driver shortages are an issue that our members have been consistently flagging up for a while now, and this is impacting upon businesses on a national scale. Moving forwards, the Black Country Chamber of Commerce will be working with businesses to highlight the number of jobs that are available throughout the area in the sector, and what incentives would potentially help to support this skills gap.
Increased Capacity for Birmingham Airport
Black Country Chamber of Commerce support Birmingham Airport's masterplan, which sets out a framework for the sustainable development of the airport up to 2030. We will be championing Birmingham Airport to help increase the number of visitors that pass through, thereby making the region more attractive for inward investment and maximising the potential of the tourist economy.
Campaign Brochure
Please click on the image below for more information on our Transport & Infrastructure Campaign.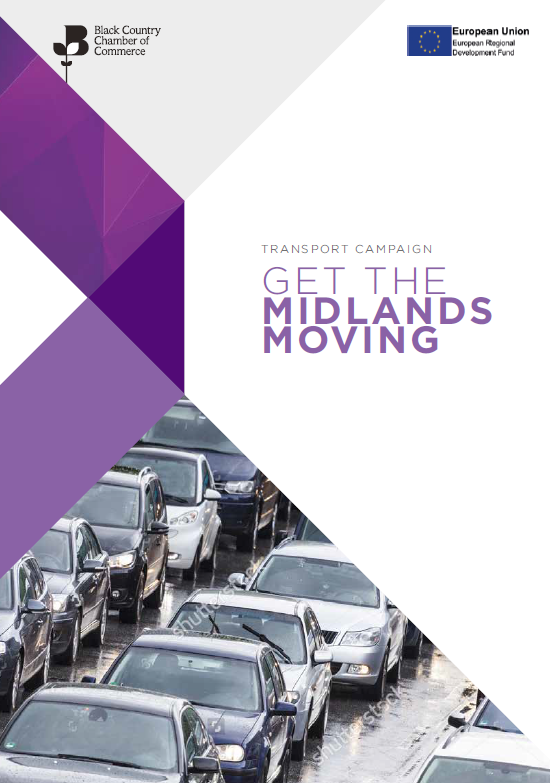 Transport Campaign Newsletter
Please click on the links below to view our latest Transport & Infrastructure Campaign updates:

2017
2018
Get Involved
Over the coming months, the Black Country Chamber of Commerce will be running an number of activities in order to help us achieve the aforementioned aims of this campaign. These activities will include high-profile events, dedicated email bulletins and opportunities to engage with key stakeholders, press and MPs.

Moreover, as a Chamber we understand that there are many other transport and infrastructure issues that are affecting your business, and we will have a Transport Policy Group that will be picking these up and making sure that we are covering as much as possible.
HS2 Ltd have recently published their corporate plans for 2017-20, which set out key objectives for the high-speed rail project for the next three years. Please click here to read this publication.
To get involved in our Transport & Infrastructure Campaign please call us on 0330 024 0820. To remain up-to-date with the latest developments of the campaign please click here to send us an email.
DON'T MISS OUT Subscribe to our mailing list