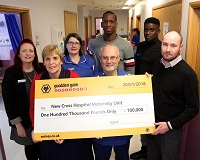 £100,000 Donation to Maternity Unit
28 Feb 2018
Published in: Member News
---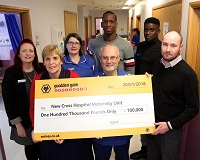 New Cross Hospital's maternity department is celebrating after a lottery initiative, set up by Wolves Football Club, has reached the £100,000 mark.
The Goalden Gate Superdraw is a £1 a week lottery that supports Wolves Football Club who in turn give a monthly donation to New Cross Hospital Maternity Unit.
The funding for the maternity department goes to help enhance patient care.
---
Leanne Bood, Fundraising Coordinator for Royal Wolverhampton NHS Trust Charity, said: "We are incredibly grateful for all the help and support from Goalden Gate superdraw and the local community.
"The support from the football club over the years has been invaluable and it is amazing to hit the £100,000 milestone."
Kevin Kay, Promotions Manager for Wolves Football Club, said: "I am really pleased to have reached this fantastic milestone of £100,000 donated to the New Cross Hospital Maternity Unit.
"The club have always had a great link with the local hospital and are pleased to be able to help the great work that the Maternity Unit does on a daily basis.
"We are now looking forward to hitting the next milestone and raising even more money for this fabulous cause."
For more information about Wolves lottery, go to www.wolves.co.uk.