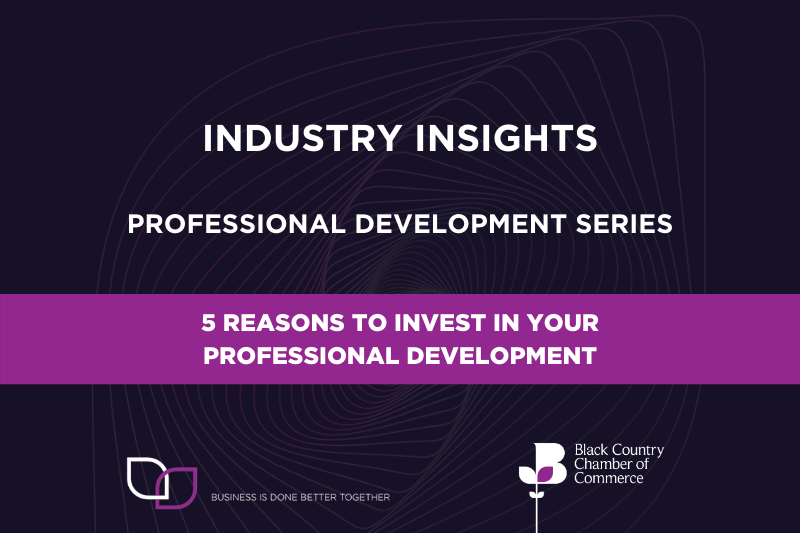 5 Reasons to Invest in Your Professional Development
11 Sep 2020
Published in: Skills
---
How can making an investment in your professional development benefit your career?
---
Building a successful career can feel like it's long and uphill – but any climber knows that the right tools can make the ascent easier. Professional development is all about acquiring these tools for your journey ahead as a manager. Let's look at five reasons to invest in your future.
1. Professional development will improve your self-awareness.
The ability to assess your own strengths and weaknesses is a vital asset for any manager. While constructive feedback from colleagues can help, the most honest opinion on your personal qualities should ultimately come from yourself.
Professional development will sharpen your critical thinking and give you a stronger sense of direction. A self-aware manager will also be able to delegate tasks to suit others' strengths.
2. Professional development will help you to plan time better.
Sometimes, there just aren't enough hours in the day. According to the Chartered Institute of Personnel and Development, overwork is most common among managerial and professional workers. Unfortunately, some unexpected deadlines can't be avoided - but better planning can help to accommodate these last-minute tasks.
Improving your time management skills will also help to break down large-scale projects into something less daunting. This will improve productivity and efficiency for you and your team.
3. Professional development will improve your career prospects.
Making an investment in your professional development will demonstrate to employers that you are serious about your career prospects. While your technical skills might be up to scratch, it's worth thinking about how many people have similar qualifications. What can you do to stand out?
Soft skills like communication, motivation and strategic planning will become the secret weapons in your armoury. You'll also be able to network and build valuable connections with fellow trainees as you develop together.
4. Professional development will increase your confidence.
It's natural to feel anxious about managing people, especially if you're stepping into a more senior role for the first time. Preparation is the key to success in this situation. If you've studied the fundamentals of management in detail, you'll be able to put your knowledge into practice.
Extra confidence will help to improve the morale of your team. A manager who believes in themselves and has a strong grasp of core competencies will set an excellent example.
5. Professional development will help you to manage stakeholder relationships.
Maintaining good relationships with stakeholders is critical for any manager. The web of stakeholders' interests can be very complex and challenging. As you aim to keep people on board with your projects, you may have to balance views that seem almost incompatible.
You'll need emotional intelligence to succeed – and there's no better way to develop resilience and tactfulness than through practising these conversations.
What is the next step?
The Black Country Chamber of Commerce's Management Development Programme is designed to build a comprehensive toolkit for both aspiring and current managers.
Providing insights, techniques and tools; the programme provides participants with the time and space to challenge their own ways of working, improve overall performance and develop approaches which add value to their business. This year's in-depth programme kicks off in October – and bookings are closing soon.
Contact the Chamber's friendly training team today to find out how the Management Development Programme can take your skills to the next level. There are various finance options which can be tailored to suit business needs - the team can help provide further information.
Download the brochure to learn more.
Email: training@blackcountrychamber.co.uk
Call: 0330 024 0820
Visit our webpage for further information: blackcountrytraining.co.uk
This blog is the first part of the Black Country Chamber's Industry Insights: Professional Development Series - co-written by Ed Torrance, Content Officer from the Black Country Chamber of Commerce and Wendyanne Shapiro, an award-winning business coach from Lotus Flower Consultancy.