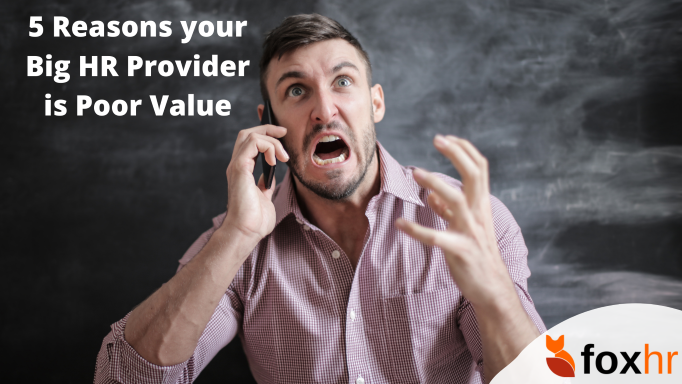 5 Reasons your Big HR Provider is Poor Value
19 May 2022
Published in: Member News
---
Have you ever thought about the value you really get from your big HR provider?
---
Have you ever thought about the value you really get from your big HR provider?
The likes of Peninsula, Citation, citrusHR, and Avensure. Broadly speaking, you pay a fee based on the number of employees you have. And because they are bigger providers, it's usually quite a low rate.
But don't be fooled by a 'too good to be true' offer. It really can be too good to be true.
I've worked as an HR consultant for a number of years now and almost every single client I have worked with has been frustrated at the poor service they receive from big HR providers.
As a small business owner, you are prime bait for the sales teams of these providers. With their low monthly costs, claims of being experts, and promises to be there when you need them, it's easy to be drawn in to an attractive rate. I get it, small businesses have lots of overheads, and value for money will always be important.
But often you'll be disappointed to find out you are just another number. Or worse, when you're stood in front of a judge at an employment tribunal and you've been fined tens of thousands of pounds. This is not good value for your small business.
You can probably tell that I'm less than impressed with the offerings of big HR providers. It gives a terrible reputation to HR professionals like myself, who work hard to ensure my clients have a personalised, reliable, and cost-effective service that adds value to their business.
I've nothing personal against these big HR providers, and the goal of this article isn't to sell my own services. There are plenty of great HR providers out there and it's important you find a HR consultant that you can trust. However, I feel a sense of duty to make sure that you know what you are signing up for if you opt for one of the big HR providers. Or to empathise with you, because odds are, you're already experiencing it.
So, here are five reasons that your big HR provider is poor value.
1. You are locked into a 5-year contract
Ouch!
This is sold to you as cost-saving because 'business costs increase year on year'. So you will save money in the long run with a fixed monthly fee.
The Covid-19 pandemic lasted two years and just look at how much this changed the way people work! So, how do you know what your business is going to look like in five years' time?
And if you don't know the answer to that question, then how can you anticipate what your HR and people needs will be that far ahead?
You can't. It's a ridiculous offering.
And what's worse is that hidden within all of that small print, is a clause that requires you to give a minimum of six months' notice to terminate. As a small business owner, you'll likely not realise this until it's too late. And boom, you're signed up for another five years.
Not only does this just not make sense from a HR perspective, but it's also just poor ethics. Especially when you consider that a lot of businesses these organisations target is in the public sector – GPs, schools, dentists, care homes. They then have to pay on top of this for better HR advice, which seems to me like a grossly immoral use of taxpayer money.
2. You'll only ever get (poor) generic advice
If you pay peanuts, you get monkeys.
Yes, it appears low cost, but you really do get what you pay for. I have worked with clients across various sectors, many of which are heavily regulated industries such as healthcare and education. Time after time, I've seen generic contracts of employment, mirror imaged employee handbooks, and complaint after complaint regards their helpline. Your business is unique.
And people – humans – are unique.
So, it is not good value to receive generic HR documentation. If you're in a regulated industry, you need to be confident that your policies and procedures meet (and ideally, exceed) the requirements of your regulators. I'm confident CQC and OFSTED would agree with me here.
Furthermore, providing generic policies doesn't help you, as a business owner, to know what you're offering to your employees. For example, it is important to know what the clauses in your contract of employment means. Often, contract templates you'll get from a big HR provider are weak. They do not make it clear whether the disciplinary and grievance procedures are contractual, for example. If they are contractual, this means that if you want to dismiss an employee with short service, you cannot necessarily do so. If your disciplinary policy does not include a clause allowing you to terminate service of less than two years with notice, you simply can't do it.
Because the policy is contractual, you would be in breach of contract for failing to follow your contractual disciplinary policy and may therefore end up in an employment tribunal with a wrongful dismissal claim on your hands.
And how are you supposed to know about this? You're not! You're paying for their expertise and you need to trust that they are minimising risk to your business.
It's also pretty common knowledge amongst the HR profession that an employment lawyer won't touch a tribunal case if some big HR providers have advised earlier in the process.
This is because often the advice provided is inconsistent, too generic, or just wrong.
3. They appear to have great reviews, because their legal teams will sue you if you say anything bad!
Remember when Joe Lycett changed his name to Hugo Boss, because the latter was contacting all business – big and small – across the world who happened to use either the word 'Hugo' or the word 'Boss' in their names?
No? It was hilarious. Go and look it up!
My point is that big organisations can get away with behaviours like this because they have the resources to employ the services of legal teams. Those teams then threaten defamation notices, in line with Section 5 of the Defamation Act 2013, which says that a person or company whose reputation has been damaged can attempt to sue the person who made the damaging comments.
(I'll probably get one of these fairly soon!)
Whilst I don't disagree that these defamation notices are a legitimate defence against false claims, it seems a little unfair that big companies with significant resource can steam roller small businesses with legal notices. This means that any criticisms are 'bleaching' a true reflection of the customer experience.
According to a BBC News article, written in 2017, one big HR provider was the main culprit in issuing these defamation notices. They tried to defend their claims, but ultimately this means that small businesses are not seeing a fair perspective of the service they are signing up for.
The fact that there is a news article about this type of behaviour, speaks volumes!
And a quick look at Glassdoor will immediately give you the true experience of their employees, too. Considering they are HR experts, you would surely be expecting an outstanding, world class employee experience, wouldn't you?
Haha.
4. Pricing strategy is based on the number of employees you have
I have never understood this concept, apart from being about obvious money making.
Employment law is fickle, ever-changing, and complex. But it applies to everyone and doesn't change because of how many employees you have.
So, to pay around £16 per employee, for up to 20 employees, is just shy of £4,000.00 per year. That might seem cost-effective when you compare it to the average salary of an HR Advisor (+/- £30k). Or even a HR Assistant on minimum wage (+/- £20k), which you would struggle to find.
But if you have very few people issues, as smaller businesses often do, then £4k seems like an awful lot of money to just be sent a pile of low-quality HR documentation, and the odd phone call when Fred phones in sick a couple of Fridays in a row.
And over the term of that 5-year contract you're tied into, that's £20k.More as your headcount increases!
The financial implications then increase when you need specialist advice, for example around a disciplinary investigation or a performance management issue.
It just isn't logical to pay for HR support based on how many employees you have. This assumes that every employee will be a cost from an HR resource perspective, which is simply not realistic.
5. You'll likely fall for a sales pitch rather than an actual solution
These large scale HR organisations, as we've already seen, have enormous resource at their disposal and can therefore afford a lovely sales team. Odds are though, these salespeople don't know their backside from their elbow when it comes to HR. But they can sell ice to eskimos.
They'll prey on the fact that you probably don't know a great deal about HR either. You wouldn't be speaking to them otherwise. So, a 24/7 helpline, access to 'free' resources, 'tailor-made' policies and processes sounds really snazzy at first glance. Especially when big words like 'legally compliant' are thrown into the mix.
And you're hooked. You can afford a few hundred pounds a month, and Brenda just made it sound like amazing value for money, so you sign on the dotted line…
The thing is, Brenda's never had to dismiss an employee who tested positive for cocaine. She's never had to put fifty people at risk of redundancy in the middle of a global pandemic, via Zoom on a Friday afternoon. And Brenda has certainly never had to comfort the employee who's just had a cancer diagnosis or who has just lost a baby.
Brenda doesn't know the first thing about what it really means to work in HR. And neither does her employer.HR is about people – and that includes you as a business owner – you're a person too, after all.
So, if you are happy to buy into the following sales pitch…
Want to be just an account number?
Need 24/7 access to a helpline that is the opposite of helpful, if you can even get through?
Would you like to speak to someone completely different every time you do manage to get through?
Want to pay over the odds and be stuck in a super long contract?
Fancy ending up losing a tribunal and being out of pocket by £50k?
Then feel free to stay exactly where you are.
Ultimately, make the right decision for your business
Just be mindful of what is being sold to you as 'tailor-made' advice. Which is in fact a mass duplication of templated documentation, often by 'HR Consultants' who do not have sufficient experience in HR to be able to effectively consult with you and your business.
Ultimately, I've heard stories aplenty of businesses whose needs – for whatever reason – were simply not being met.
As I've said, I haven't written this article with the intention of launching a long tirade about competing organisations. I simply want to raise awareness to small business owners like yourself who are looking for an effective HR solution, to highlight the stark difference between the service you believe you will get and the service you actually get.
Not convinced? I will gladly give you an hour of my time to take you through my free HR MOT and show you exactly where your business could be at risk.
Get in touch today, and let's solve your HR headaches
Submitted by Laura from Fox HR