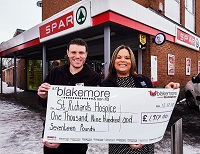 A.F. Blakemore & Son Awards 12 Good Causes £1,917 Heritage Grants
04 Jan 2018
Published in: Member News
---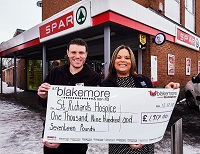 Retail and distribution company A.F. Blakemore & Son Ltd has awarded 12 good causes a grant of £1,917 through its charitable trust, the Blakemore Foundation.
The family owned company marked its centenary this year by launching a 1917 Heritage Grant Scheme to support local good causes across its trading area.
The company accepted applications over spring and summer and in total awarded 12 charities and organisations with a grant of £1,917.
---
Each of the applicants were required to provide information on how the money would be used to sustain the good cause.
Some of the good causes supported included Central Youth Theatre in Wolverhampton, St Richard's Hospice based in Worcestershire, and educational programme World of Words in Rhondda Cynon Taf.
A.F. Blakemore Community Affairs Officer Kate Senter said: "A.F. Blakemore & Son has a long history of supporting local good causes and the 1917 Heritage Grant Scheme has complemented this perfectly.
"The 1917 Heritage Grant Scheme received more than 400 worthy requests from good causes across the UK.
"It is hoped that each grant will support the local good cause's sustainability for years to come in recognition of the company's commitment to growing sustainably for the benefit of staff, customers and the community."
The delivery of the 12 grants topped off a year of celebrations for A.F. Blakemore as throughout 2017 the company has been marking its centenary with a series of focus weeks and charity birthday parties aimed at celebrating the culture and history of the business.
A.F. Blakemore Group Board Director Caoire Blakemore commented: "It's been fantastic to engage with so many worthwhile and diverse charities and organisations as part of our centenary celebrations.
"All at A.F. Blakemore are committed to improving the local communities in which we trade and the 1917 Heritage Grants Scheme has allowed this ethos to continue through our programme of celebrations which aren't just about celebrating the past, but about looking forward to the future."
St Richard's Hospice Fundraiser Ria Simons commented: "We are very grateful to the Blakemore Foundation for choosing to support our care of patients with this generous donation. The money will go towards helping patients learn new skills and strategies on how to manage their symptoms through education, exercise, therapies and group support.
"All at St Richard's Hospice would like to thank A.F. Blakemore for their support and wish the company a very happy 100th birthday."
The Blakemore Foundation was established by the Blakemore family in 1992 and over the last 10 years has donated more than £1.7 million to good causes across the company's trading area, which stretches across England and Wales.