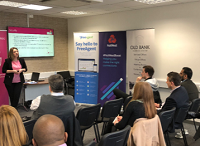 ACUTEC and NatWest Team Up to Tackle GDPR
14 Mar 2018
Published in: Member News
---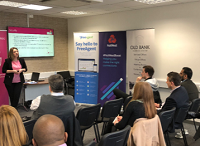 An IT Service Provider warned of the dangers of failing to take measures to protect personal data at a recent seminar in partnership with NatWest's Business Boost programme.
ACUTEC was invited by the NatWest Business Banking team to give its take on the upcoming General Data Protection Regulation (GDPR) and how businesses should be taking steps to ensure they are protecting personal data.
---
GDPR is the new data protection legislation coming into force on 25th May 2018. The legislation will see businesses be at risk of fines from the Information Commissioner's Office of up to 4% of their global turnover or €20 million if they do not comply with the new laws.
Amy Staniszewski, Digital Marketing Specialist at ACUTEC, covered an overview of GDPR as well as the actions that businesses need to take to ensure that their cyber security is compliant with the new legislation.
"It's less than 3 months until GDPR comes into force and organisations are still confused about what they need to do"; Amy commented. "There has been so much scaremongering on this topic that it has got out of control. Businesses need to take a step back and start thinking about their data in a different way."
During the session, ACUTEC discussed the importance of understanding a business's current situation before taking steps towards GDPR. It was highlighted that companies need to identify what data they hold, where they hold it and why they hold it before taking action.
"GDPR is all about respecting your data and then protecting it," said Amy. "You need to be able to justify your reasons for processing it and understand that if you are choosing to hold it then you have to take responsibility for it. Businesses should be considering things like the government backed Cyber Essentials scheme to ensure they are ticking the right boxes."
Cyber Essentials is a government endorsed standard that ensures businesses are taking the precautions needed to protect them against a cyber-attack. The aim of the Cyber Essentials badge is to not only make sure businesses have adequate cyber security but also to show their customers that they take the responsibility of holding their data seriously. The scheme is supported by the Information Commissioner's Office, which makes it a good step for organisations attempting GDPR compliance.
ACUTEC has urged all organisations to consider their security in anticipation of GDPR. The security specialists have stated they are willing to talk to any businesses that are concerned about protecting their data.