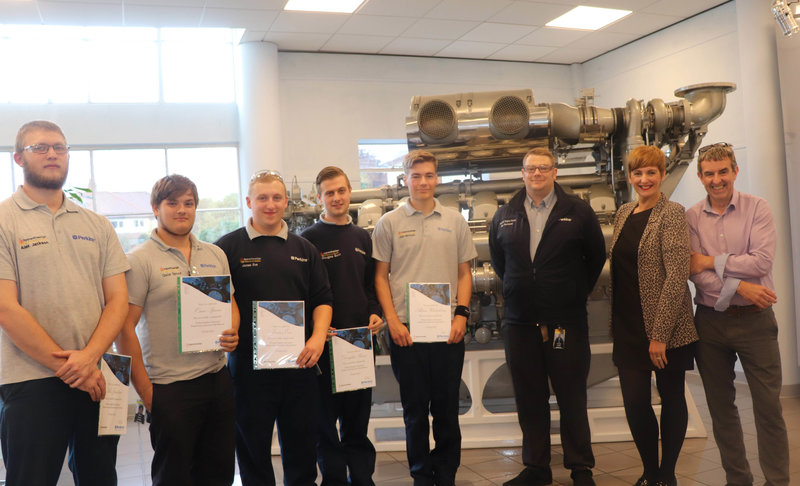 Apprentice Class of 2019 celebrate graduation at Perkins Stafford with Walsall College
11 Sep 2019
Published in: Member News
---
Engineering apprentices at Perkins Stafford have completed their training programmes with Walsall College
---
The latest group of engineering technicians at Perkins Stafford to undertake an apprenticeship programme have celebrated their graduation. The five apprentices completed an Advanced Technical Apprenticeship Programme with Walsall College.
They were presented with their awards at a special ceremony held at the manufacturing facility and will begin their permanent roles this month.
Daryl Steele, Facility Manager at Perkins, commented: "The achievements of these apprentices are beyond our expectations. They have proven to be talented and committed individuals who have brought energy and enthusiasm to their teams.
He continued: "We revived our apprenticeship scheme in 2012 as a way of protecting our business against potential skills shortages, including rising retirement levels and a reduction in young skilled workers coming through the sector.
"Our apprenticeship programme has tackled these challenges head on. We continue to recruit new apprentices each year who are thriving across many areas of the company."
To date, 20 apprentices have completed their three-year programmes at the facility, with a further 24 currently undergoing training.
As part of their programme, the apprentices receive training one day a week at Walsall College, gaining Level 2 and 3 engineering manufacturing and engineering technologies qualifications.
Helen Bosworth, Sales Manager at Walsall College said: "We have delivered an innovative employer-led training programme that motivates aspiring engineers and supports industry expectations about its future workforces. It is great to see these apprentices develop and build real careers and we are proud that Walsall College has played its part in that."
Ends
Submitted by Shobby from Walsall College
Comments
No comments have been submitted yet.