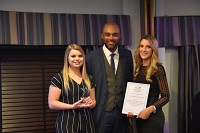 Apprentices and Employers Honoured at Prestigious Awards
21 Feb 2018
Published in: Member News
---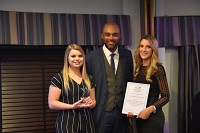 Stars of the training and working world were presented with awards for their hard-earned achievements at a glittering ceremony in the West Midlands.
The Performance Through People (PTP) Awards took place at the Village Hotel in Walsall where around 90 guests listened to success stories from apprentices and employers. Awards were also presented to PTP's longest serving employees who had been with the Midlands based Training Provider for up to 20 years - totalling up to 145 years of experience.
---
Among the winners was Willenhall-based company A.F. Blakemore & Son Ltd, which took one of the Employer of the Year awards. Liz Blakemore, community affairs officer at the company, said they had employed apprentices at the company for more than 20 years.
"The awards night was wonderful and it was very exciting to hear that we had won," she said. "The evening was inspiring and it was great to hear everyone's stories and see the variety of people that were doing apprenticeships, not just young people fresh from school."
Last year the Apprenticeship Levy came into force which now sees UK employers funding new apprenticeships. The levy applies to employers in England, who have an annual pay bill above £3m. Liz added that A.F. Blakemore has worked hard to ensure the impact of the apprenticeship levy has had as positive an outcome as possible. "Before the apprenticeship levy was introduced we put certain measures in place," she said. "We set up a working group of people from across the company and looked at areas of the business that needed apprentices. Apprentices are vital to the future of our company, and their contribution is invaluable. The levy has had a big impact, but we don't treat it as a bill or a tax. We look at it as something positive that is getting more young people and staff onto apprentices."
One of PTP's previous apprentices, Frankie Moore, introduced the awards along with operations director, Carolyn Stokes, and business development director, Gill Durkin. During the night guests were entertained by a guitarist and close-up magician while board members John Punch, Kevin Davis and Jane Preece presented the different awards.
Rob Colbourne, managing director of PTP, said "With the apprenticeship brand going from strength to strength in terms of credibility and another viable option to full time education; organisations holding apprenticeship award events can only enhance the brand by highlighting the positive impact apprenticeships can have on employers and individuals. Congratulations to all finalists and of course the winners at the PTP apprenticeship awards."