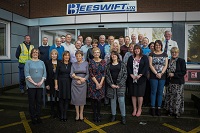 Beeswift Buys Dutch Business
26 Feb 2018
Published in: International Trade
---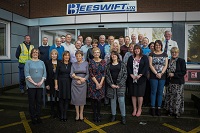 Beeswift, one of the leading manufacturers and distributors for high quality health and safety products in Europe, has completed the acquisition of Dutch distributor for workwear and protective clothing, Schulte Safety Products.
SSP is now wholly owned by West Bromwich-based Beeswift and will be known and traded as Beeswift BV.
The acquisition will ensure Beeswift BV benefits from inward investment to enhance and deepen its existing product range.
---
The acquisition has already led to an increase in its workforce with further additions planned as the business grows over the coming months.
Minister for Investment Graham Stuart said: "Beeswift's acquisition of Schulte has already created new jobs for people in West Bromwich and will sustain many more. The continued expansion of the company will create further opportunities for the local economy with job growth, driving increased local spending.
"As an international economic department, the Department for International Trade supports UK companies' investments overseas where it creates jobs and wealth for the UK economy."
Commercial and export director for Beeswift, Darren Washbourne, said: "Our aim has always been to become the leading wholesaler of personal protective equipment and safety workwear and the acquisition of SSP will help us to achieve this. We expect initial growth to come from mainly Netherlands and Germany in the short term, but as Beeswift BV becomes more established we will expand further across the eurozone.
"As a result of the investment overseas, we have hired more staff at our West Bromwich base and plan to increase our numbers further underpinning continued growth."
The acquisition also provides Beeswift, based at Delta Point, Greets Green Road, with a firm footing from which to build on a history of strong export success.
DIT has been supporting Beeswift's export activity for more than a decade including at trade shows and helping train Beeswift staff.
Its support recently contributed to two of Beeswift's export wins in the Netherlands and France.
Ian Harrison, director of exports at DIT Midlands, said: "Beeswift is a fantastic example of a West Midlands company with a truly international outlook. From their strong track record of exporting, to their acquisition of SSP, they are establishing themselves as an industry leader at home and abroad.
"We have worked with them over a number of years and look forward to the future as we continue to support their growth."