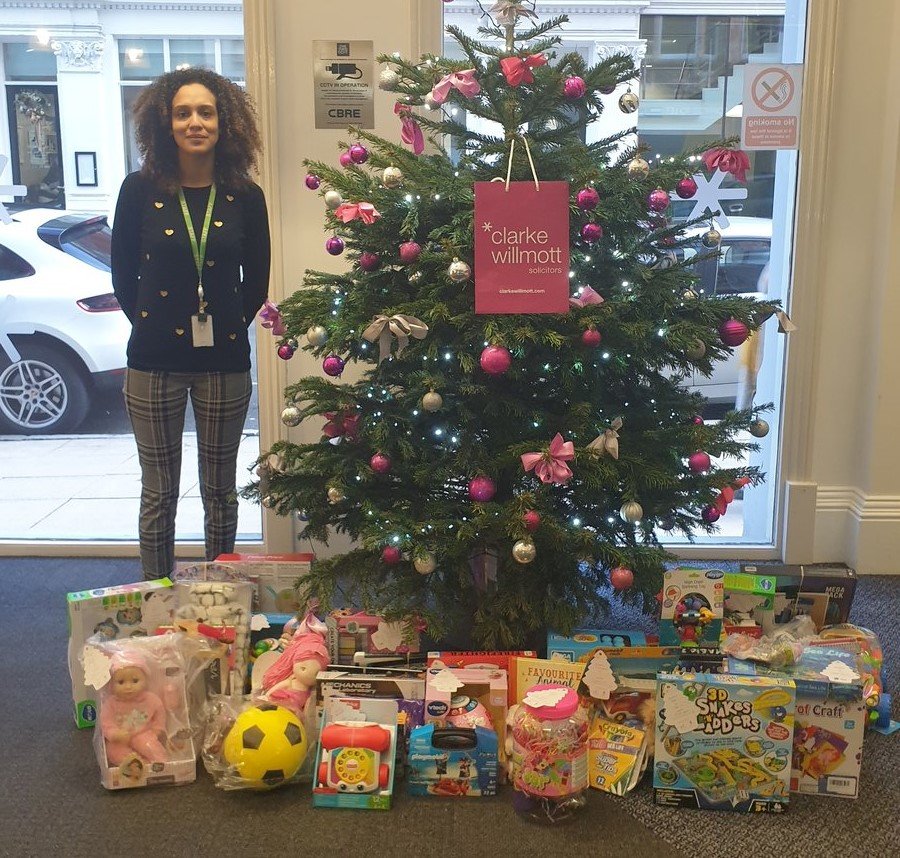 BIRMINGHAM LAWYERS HELP FAMILIES IN NEED WITH GIFT DONATIONS
18 Dec 2019
Published in: Black Country Chamber of Commerce News
---
Lawyers and staff at the Birmingham office of Clarke Willmott LLP have ditched the office 'Secret Santa' to buy toys for local children instead.
---
Forty-five gifts were donated by the firm to children in local refuge homes as part of 'The Giving Tree', a scheme by national charity Kids Out.
The initiative invites firms to take a tag from The Giving Tree and buy the child on the label a gift for between £5-£10. The charity then distributes the presents to children in local refuges over the festive period.
Many of the recipients are children who have escaped domestic violence and have had to flee their homes quickly, leaving their possessions behind, and may not otherwise receive a gift at Christmas.
Every year an average of 20,000 children in the UK flee domestic violence to a Women's refuge with 8,000 being rehomed in a new unfamiliar area.
Stacey Collins, a paralegal in Clarke Willmott's family team, said: "I have been organising the Kids Out Giving Tree scheme at Clarke Willmott for the last four years. On average we have donated between 20 to 30 presents each year so I'm delighted with the incredible number of gifts we have donated again this year.
"Receiving a simple present such as a jigsaw puzzle, craft kit or cuddly toy really can make all the difference to a disadvantaged child at Christmas, particularly those who have fled their home with little or no possessions due to domestic abuse.
"Kids Out do fantastic work all over the UK ensuring that children remember what it's like to be a child and just have fun. We're really proud to support such a wonderful cause and look forward to working with them again in the future."
According to Woman's Aid statistics over 50% of the children in local refuges have personally suffered serious abuse. Furthermore, children who have experienced domestic abuse are more likely to have been exposed to other risks such as neglect, parental substance misuse and mental health issues.
Clarke Willmott is a national law firm with offices in Birmingham, Bristol, Cardiff, London, Manchester, Southampton and Taunton.
For more information on the firm visit www.clarkewillmott.com
For more information about Kids Out visit www.kidsout.org.uk/