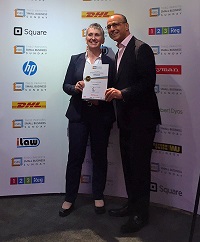 Black Country Business Beats the Odds
26 Feb 2018
Published in: Member News
---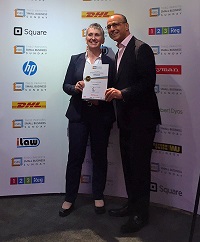 With less than 1% chance of being chosen, small business owner Tracy Messer of BIGPAWS.CO recently received her award certificate from Theo Papthitis at his Small Business Sunday (#SBS) event held at Birmingham's ICC.
Since he started #SBS in 2009 there have been 329,000 applications and yet only 2256 have been chosen so far. Tracy, who's small business was set up at home after designing her own unique wall mounted dog bowl, said, "It was a fantastic day, the speakers were very inspiring and gave you that extra lift and confidence that your hard work and dedication will eventually pay off."
---
She continued, "It was great to meet other new and established small businesses to share tips and advice. I have only been trading for 18months so the business is still young. I'm looking to continue growing the business in 2018, and I am especially looking to work with some retail outlets."
The free event is put on by the former Dragons Den star to celebrate small businesses and bring them together, with guest speakers, networking and 121 sessions with industry experts. It's a great day not just for those in the UK but small businesses across the world who have been lucky enough to have been chosen by Theo.
Tracy's unique Wall Mounted Dog Bowl was designed to fix to the wall at any height and stops a dog's bowl being pushed around the floor. It also makes a great alternative to a bowl stand for those dog's fed at height.