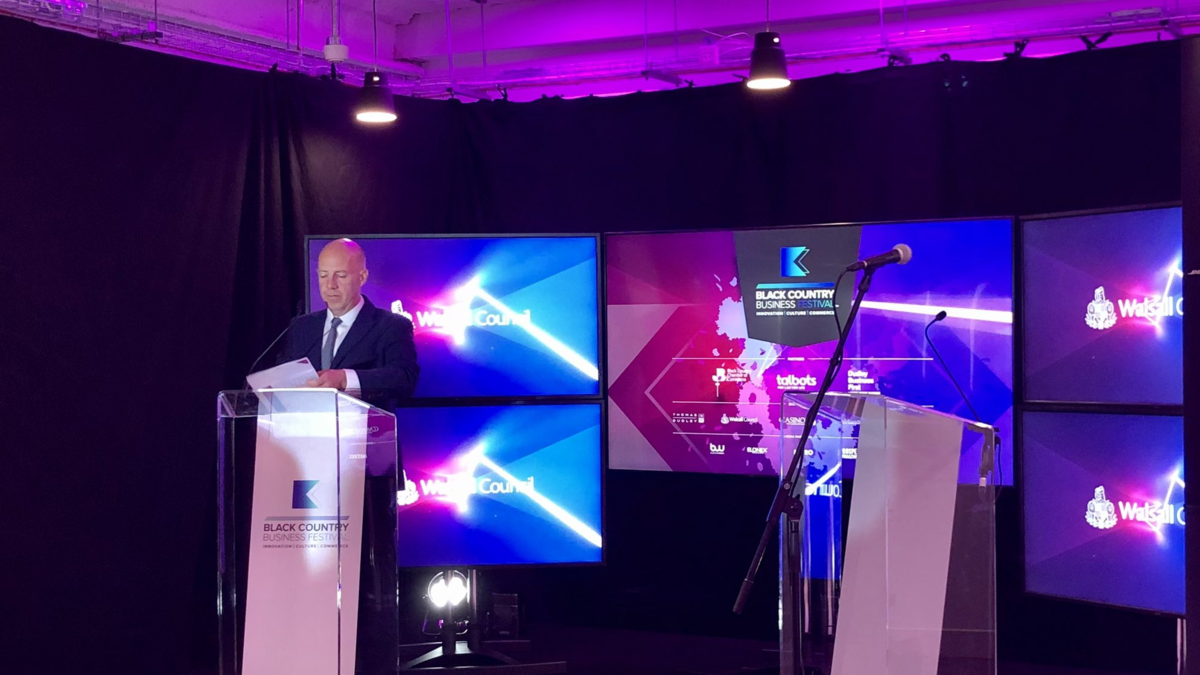 Black Country Business Festival 2021 hits the high notes
04 Oct 2021
Published in: Black Country Chamber of Commerce News
---
Black Country Business Festival (BCBF) kicked off this morning [4 October] at Resonance, an exciting new music education institute, in Dudley.
---
It is the fourth year of the BCBF with a broad programme comprising 80 events covering everything from how to meet your CSR commitments and team building to business funding and recruitment.
Not-for-profit educational organisation, Resonance, hosted this morning's opening event which featured Jonathan Poole, Centre Manager of Merry Hill; Axl Barber and Tom Burden of Rightbox; Andy Street CBE, West Midlands mayor and Steve Homer, CEO of AEG.
There was a clear message of regeneration and expansion, with Steve Homer, CEO at AEG, explaining the reasoning behind why the company has taken over Wolverhampton Civic Hall, and how the Midlands, the Black Country in particular, are such an important part of live music and touring artists.
New Centre Manager at Merry Hill, Jonathan Poole, spoke about the incredible growth in footfall the shopping centre has seen since most COVID guidance had been lifted. Merry Hill has plans to become a central hub for leisure and retail in the midlands, and will continue to expand and improve its offering.
Corin Crane, CEO of Black Country Chamber of Commerce said "BCBF has always become a key date in the business calendar, and people really see it as the time to get out there, meet new people and attend events.
"The opening event really highlighted the amazing work that is happening right on our doorstep. Being at Resonance today is a prime example of the regeneration and investment that is being seen right across the Black Country."
Rick Benton, Chief Executive and Principal of Resonance added, "We are delighted to have been able to support the BCBF this morning. Resonance is not only a first-class higher education institute where students learn music along with the softer skills needed in the industry like entrepreneurship, but it is also a vital community music hub where musicians from around the region are able to take full advantage of the state-of-the-art facilities on site. It was great to be able to showcase what Resonance has to offer, at this important annual regional event."
This year's BCBF boasts a mix of spectacular in-person, online and hybrid events taking place across the ten days. The return of in-person events will truly help to bring the business community back together after over 18 months of uncertainty.
Details of all the events are available on the website at www.blackcountrybusinessfestival.com, where tickets can be booked. Nearly every event is completely free to attend.
The BCBF relies on sponsorship from organisations across the region. Black Country Chamber of Commerce, Talbots Law and Dudley Business First are Partners for 2021. There is further support from Festival sponsors Thomas Dudley, Walsall Council, Casino36, Sandwell Metropolitan Borough Council and Sandwell Business Ambassadors.
For more information, please email hello@blackcountrybusinessfestival.com or call 01902 912 304.
---
Notes to editor
For press enquiries, contact Martha Orrey:
e: hello@blackcountrybusinessfestival.com | t: 01902 912304 | w: www.blackcountrybusinessfestival.com | twitter: @BlackCountryBF | #Thisistheblackcountry
About the Black Country Business Festival
www.blackcountrybusinessfestival.com
The Black Country Business Festival is an annual festival of business events which will run across the whole Black Country region. This year, it will take place from 4-15 October. The BCBF is overseen by a board of local, independent business volunteers and the programme is managed by Associate Events in partnership with the Black Country Chamber of Commerce.