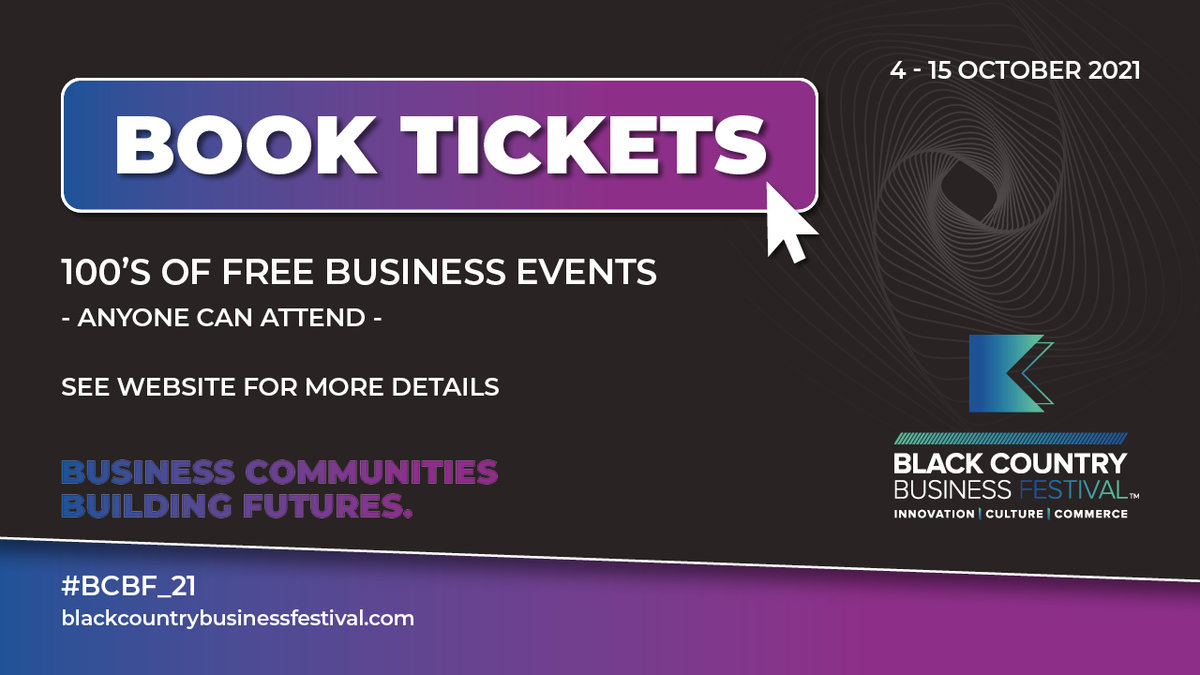 Black Country Business Festival Draws Closer
17 Sep 2021
Published in: Black Country Chamber of Commerce News
---
Black Country Business Festival Draws Closer
---
Black Country Business Festival Draws Closer

This year's Black Country Business Festival kicks off on Monday 4th October and offers a host of free events, many organised by the Black Country Chamber of Commerce.
From 4th to 15th October, the Chamber, along with companies and organisations from across the Black Country will be running events as part of the fourth Business Festival, aiming to help and inspire other businesses as the economy kick-starts again.
This year sees a mix of digital, in-person and hybrid events with everything from the likes of a virtual tour of Sandwell's new aquatics centre for next year's Commonwealth Games to health and wellbeing in the workplace as well as a whole host of property and development events which truly signify the extensive opportunities of the changing face of the region.
For the Chamber, the Business Festival gives the opportunity for the region's longest running business support organisation to provide an insight into their work, activities and campaigns whilst offering advice and expertise on a range of subjects.
This year the Chamber will be hosting everything from face-to-face networking events to advice from their own business start-up experts on how to take the first steps into becoming your own boss.
There's free social media training, an insight into personal and management development skills, export clinics for those businesses looking to step into the world of exporting and an in-depth Manufacturing Roadshow, which will provide links to support, guidance, grants, innovation and business growth for those in the sector.
The Chamber are also offering an insight into their very own Platinum Group with the chance to join one of their usually private, peer to peer working groups, giving business leaders a bird's eye view into how many of the region's top businesses work together to tackle some of the major issues affecting firms today.
Meanwhile, Let's Talk About the Menopause is a live webinar, hosted by Chamber CEO Corin Crane, offering advice to firms on menopause in the workplace with guests including, Caroline Nokes MP, Chair of the Women and Equalities and leading menopause in the workplace expert, Deborah Garlick.
The Chamber's Armed Forces expert and Military of Defence Officer, Sarah Walker, will also be giving her expert advice on how Armed Forces Reservists can be good for business.
To check out all the Chamber events click onto: https://www.blackcountrychamber.co.uk/events/
With over 70 different events to choose throughout this year's Black Country Business Festival there will almost certainly be something that will appeal. And almost every event is completely free to attend!
Tickets are being issued on a first come, first served basis, so, for the full list of exciting events, view and book your tickets here: https://bcbf-2021.ticketleap.com/
-Ends-
Notes:
The 2021 BCBF is partnered by Talbots Law, Dudley Business First and the Black Country Chamber of Commerce. Sponsors are Thomas Dudley, Casino 36, Sandwell Council, Walsall Council and Sandwell Business Ambassadors.
Media Partners are: Elonex, Business Works, Prosper Magazine and Metro.
For more information, visit www.blackcountrybusinessfestival.com call 01902 912304 or email hello@blackcountrybusinessfestival.com