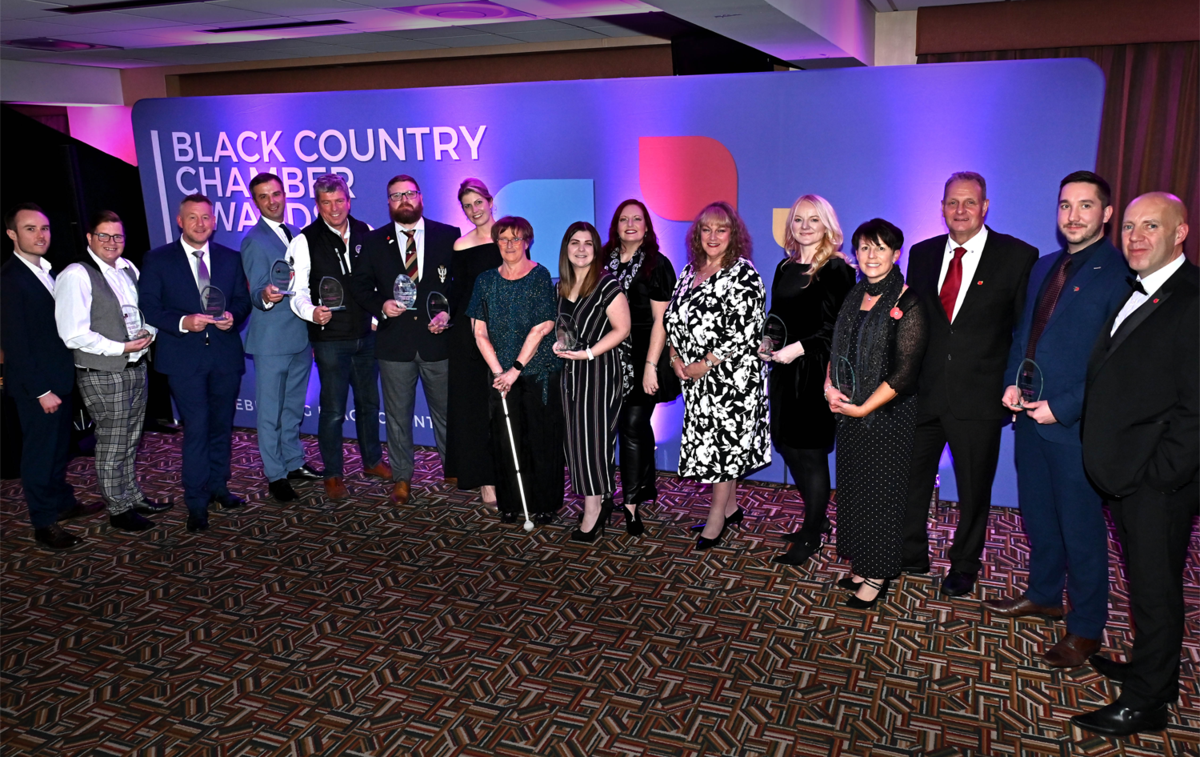 Black Country Chamber Business Awards Winners Announced
11 Nov 2021
Published in: Black Country Chamber of Commerce News
---
Winners from ten categories were revealed at the Black Country Chamber Awards Reception at Wolverhampton Racecourse
---
Businesses from across the Black Country gathered today, (11th November), at Wolverhampton Racecourse as the region's longest running business support organisation, the Black Country Chamber of Commerce, announced its winners in this year's Black Country Chamber Business Awards.
The awards reception, which followed the Chamber's Black Country 2.0 Economic Business Conference, saw finalists and sponsors watch in anticipation, whilst hundreds tuned into the event as it was broadcast live to the region with the 2021 winners announced in ten categories.
And the winners are...
Large Business of the Year - Sponsored by Nant Ltd
And the winner is... The Beacon Centre for the Blind
Judges felt that all finalists demonstrated what great companies they were and the positive impact they have on their customers, stakeholders and communities, it was Beacon's story which they felt shone through the brightest.
Making significant changes to become, in their words, the business they always wanted to be.
In a revamp, all of the centre's stakeholders were engaged and a new user journey created which has the best interests of all of the centre's users at its heart.
The judges felt that Beacon not only responded and adapted to the testing times we have all experienced of late but built on its very foundations to ensure it continues as a success story for future generations.
Small Business of the Year - Sponsored by The British Business Bank Midlands Engine Investment Fund
And the winner is... WELL Training
Heavily impacted by the pandemic which saw its order book significantly reduce, the judges were impressed that Well Training managed to retain its staff base and continued to develop them to ensure that their products and services were up to date and ready to go as the world began to reopen.
Accelerating planned changes to its training curriculum and with a focus on service improvement Well Training transitioned to an entire digital delivery as it also improved the work-life balance of its teams through a family-first approach.
As a business working on trust and team empowerment, Well is a real asset to the region and the judges were also impressed to hear about the activities which saw them give back to the local community wherever they could.
International Trade Business of the Year - Sponsored by Wolverhampton Racecourse
And the winner is... Simworx
Congratulations to Simworx in a very strongly contested category which the judges' thought were all very worthy finalists.
The judges felt that it was Simworx's demonstration of tremendous resilience during the pandemic as the continued to supply and service theme parks and visitor attractions in a world which had largely closed down which helped them to win the award.
They were additionally impressed by Terry Monkton, Simworx's CEO passion for the business and promoting the Black Country on the international stage as was evidenced in winning a major new contract for parks in Norway.
Start-Up Business of the Year - Sponsored by Higgs LLP
And the winner is... Osborn Communications
Highly Commended - Vantage 365
The judges praised Osborn Communications for a truly commendable submission which mirrored and conveyed all the aspects they were looking for, from growth to community-based work, supporting firms rooted in the region and demonstrating Black Country pragmatism and determination by representing the region beyond our borders both nationally and internationally, all in such a short space of time.
Manufacturing Business of the Year - Sponsored by CK Chartered Accountants
And the winner is... Westfield Technology Group
Judges were particularly impressed by how Westfield Technology Group had demonstrated an advancement in both manufacturing and technological skills to develop a new product that is taking them to new markets at home and abroad.
Despite COVID severely affecting activity, in their new markets of aviation and tourism, Westfield demonstrated resilience by identifying new markets sectors and is working on projects with partnerships from Waitrose to the QE Hospital in Birmingham.
Passionate about training and developing its young talent, Westfield has worked closely with Dudley College to recruit and train apprentices from across the region.
The company's ongoing education programme for automated pods has had over 6k participants and is a real success for British Engineering right here in the Black Country.
Service Business of the Year - Sponsored by PROSPER Magazine
And the winner is... Lord Combustion Services
Led by Stuart Smith, judges felt the company had demonstrated great client focus, innovation and employee attentiveness during the pandemic as they worked tirelessly to maintain and service many key sites such as hospitals and care homes to ensure they could stay open safely during the pandemic.
The judges were further impressed by Lord's contribution to the community including their role as STEM ambassadors, work with the Armed Forces Covenant and work to help their customers get to net zero.
Director of the Year - Sponsored by Sandwell College
And the winner is... Emma Tibbetts from Lord Combustion Services
Congratulations to Emma who, during COVID, ensured that Lord Combustion went above and beyond to respond to a customer base of schools, care homes, health centres and other key institutions, ensuring that maintenance and service was carried out and not neglected to keep these vital services in operation, especially as a number subsequently opened as vaccination centres.
Emma kept her teams motivated and introduced new ways to keep them enthused and driven during a period where they supported the work of key workers.
Outstanding Business Contribution to the Armed Forces - Sponsored by Chamber Military Network
And the winner is... Tough Enough To Care
Highly Commended - Darren Gray from Tactical Coffee
The judges felt that Tough Enough to Care epitomised the very best of the Armed Forces Community and those it serves.
Tough Enough to Care provided exceptional mental health support to veterans of the region and, as its volunteers are ex-military demonstrate are a real empathy with those seeking assistance and support and have worked tirelessly to combat isolation, loneliness and help individuals to build confidence.
Kindness in the Community - Sponsored by Unity Trust Bank
And the winner is... The Royal Wolverhampton NHS Trust Charity
Highly Commended - Paycare
During the last 12 months, The Royal Wolverhampton NHS Trust Charity has supported over 11k members and members 450k patients and families.
The judges were impressed by how the charity adapted to operating during the pandemic which saw new thinking and innovative ideas to drive donations and support critical services whilst using technology to keep people connected during life changing moments.
Exceptional Employee or Team - Sponsored by Wildside Activity Centre
And the winner is... Steps To Work - BBO Bridges Project Team
Judges remarked that over the past 12 months the BBO Bridges Project has supported hundreds of people with multiple and complex needs to overcome barriers that have prevented them from accessing employment and it was clear that the overriding ethos running throughout the team was to provide holistic person-centred solutions for those who may be struggling with isolation, mental ill health, in-work poverty and long-term unemployment.
It was apparent that a wholly supportive team culture in which everyone has a voice, ensures a regular sharing of best practice so that participants can be empowered to take the next step on their journey.
Despite it being a time limited project, the team remain committed to finding ways to ensure the legacy of what they do will continue to have a positive impact for users.
---
Chamber CEO Corin Crane said: "Our Awards today have celebrated the hard work, tenacity and success of our local companies and individuals. The business world has witnessed seismic shifts in recent months, and our firms operate with many challenges as we emerge into a radically altered trading environment.
"Today we have celebrated innovation and enterprise from across the Black Country region and we acknowledge and appreciate the endeavours, resilience, adaptability and outstanding contribution of our business community and professionals – the people who have pivoted, the people who have fought and survived and those who have coped with unprecedented change and growth and survived the worst economic downturn on record.
"Despite very tough trading conditions over the past 20 plus months, both the quantity and quality of the award entries amazed our judges, showing clear testimony to the resilience and adaptability of businesses from all sectors across the whole region.
"I want to thank the dozens of businesses who applied for our awards this year and say well done to all our finalists, and a huge congratulations to our winners.
"Next year we are planning to bring back our big awards celebration which has gone on to become one of the most popular and keenly anticipated dates in the business calendar."
-ENDS-