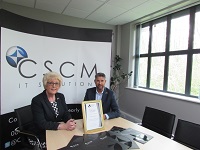 Black Country Chamber Welcomes CSCM IT Solutions to The Chamber Patron Group
14 May 2018
Published in: Black Country Chamber of Commerce News
---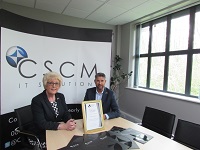 Black Country Chamber of Commerce are delighted to announce that longstanding Chamber member, CSCM IT Solutions, have been welcomed to The Chamber Patron Group.
Established in 1995, CSCM provide quality IT solutions using the most up-to-date and trusted technology, listening to customers and offering bespoke advice based on extensive experience and expertise, helping them to make informed decisions impacting upon their business.
---
Having operated within the Black Country for over 22 years, during which time they have nurtured strong links with other local businesses and charities, becoming a member of The Chamber Patron Group was a logical step for the company to take.
Jude Thompson, Managing Director of CSCM, commented: "Our relationship with the Black Country Chamber has flourished over the years, having become a member of The Platinum Group in 2012. Furthermore, in late 2016, I was delighted to accept a Directorship of the Board position within the organisation and have enjoyed working closely with the Board ever since.
"I feel honoured that our firm is now recognised as a Chamber Patron and look forward to working closely with Gail to champion the local region on a national and global scale, highlighting that the Black Country truly is a great place for business!"
Gail Arnold, Head of The Chamber Patron Group, added: "It has been a pleasure working with Jude and his team over the last few years and I am absolutely delighted that this relationship will continue in a Patron role. Our Chamber Patrons reflect the strength of the Black Country Economy and demonstrate real social impact from our joint work."
If you would like more information about Black Country Chamber of Commerce membership, please contact us on 0330 024 0820 or visit www.blackcountrychamber.co.uk. For more information about CSCM IT Solutions please visit www.cscm.co.uk.
Comments
No comments have been submitted yet.