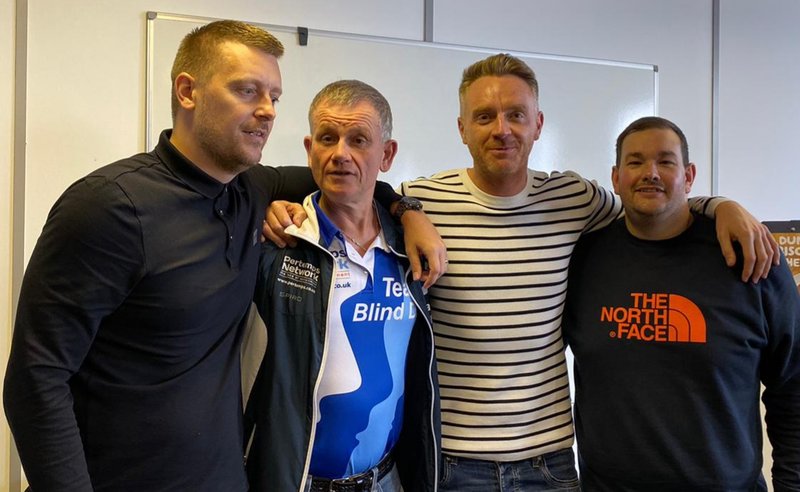 Blind Dave Crowns KMB Charity Bake Off Winner
04 Oct 2019
Published in: Member News
---
Local hero Blind Dave Heeley judged cake competition for Macmillan Coffee Morning
---
On 27th September 2019, inspirational local man Dave Heeley, commonly known as 'Blind Dave' joined award-winning freight forwarding firm KMB Shipping Group for their Bake Off competition at their offices at Bizhub Castle Mill. The competition was held as part of the Macmillan Coffee Morning, raising £306 for the cancer charity.
As well as taste testing all entries, Dave selected the winner of the Raffle, with donated prizes including a drone, bottle of wine, a signed copy of Dave's book and gift vouchers. Winner of the Bake Off competition received a £50 Gift Voucher and all cakes were sold off in aid of Macmillan Cancer
Dave is known for many charitable achievements despite being visually impaired, such as the 777 Challenge, where he completed 7 marathons on 7 continents in 7 days., for which he won the Sport England award.
KMB Directors were delighted with the result, with Director Kevin Jones commenting, "This is the first time we've hosted a Macmillan Coffee Morning, and we can't thank everyone enough for their support. In particular, BizHub Dudley, our neighbouring tenants in the building as well as Dave Heeley for coming along to judge or company Bake Off competition. Its been a very successful morning and we managed to raise over £300 for Macmillan"
BizHub Dudley, home of the KMB Shipping office, donated prizes and use of their largest conference room as a venue for the event.
KMB Shipping Group was established in 1987 in Oldbury, moving to Tipton in 1992. Originally comprising of two companies, Daily Irish Services and KMB Intermodal, with less than 8 employees in total, the two were merged in 2009 to create the KMB Shipping Group. Now with twice as many employees, the company has grown from strength to strength, and expanded their services from freight forwarding to providing total transport solutions, including worldwide shipping, export documentation and packing, and customs insurance.



Submitted by Sophia from KMB Shipping Group