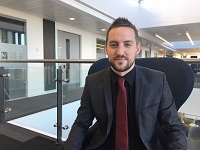 Budding Entrepreneurs Raise £17k for Local Charities
04 Jan 2018
Published in: The Chamber Patron Group
---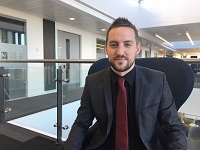 Entrepreneurial students from the University of Wolverhampton have raised more than £17,000 for local charities as part of a business module.
More than 30 groups of students from the Faculty of Social Sciences joined forces to organise events and activities for six local charities.
The students planned, marketed and organised events over a six-week period including a live music night, bag packs, cake and sweet sales, motorcycle ride-outs and a movie night.
---
A total of £17,406.62 was raised for The Haven Wolverhampton, Blood Bikes Staffordshire and South Shropshire, St Anthony's - Leonard Cheshire, Promise Dreams, Compton Hospice and Acorns Children's Hospice.
The students held an exhibition at the University's Lord Swraj Paul building to showcase their achievements. A prize donated by Richard Hilton, Managing Director of Fabweld Steel Products, was awarded to the team which raised the most money, and a prize was also awarded to the most creative fundraising innovation which saw a three-year fundraising strategy being agreed between the charity and local businesses including TATA Steel.
Clifford Hunt, a final year HND Business student, said: "This module has given students the opportunity to apply taught knowledge gained so far. Practical skills are key for employment after university and it has been good to take on different roles within a team to achieve a practical task. This has given us real life experience which we can take forward to develop our CVs and professional profile.
"We have also had the opportunity to work with people high up in the charity sector, and gained access to high up business people who we would not normally get to meet. We have been encouraged to follow our ideas through to the end which has also been a great confidence boost for all of us."
Dr Liz Heyworth-Thomas, Lecturer in Marketing and Enterprise, said: "Yet again we have had another fantastic year on the Entrepreneurial Creativity and Innovation module, not only raising a staggering amount in just six weeks, but also the skills our students have demonstrated on this module and the awareness the students have raised for the charities involved. We appreciate all the support that local communities have shown us, including businesses which have kindly donated items and venue use to raise funds for charity."
For further information about University of Wolverhampton Business School courses, visit: www.wlv.ac.uk/uwbs