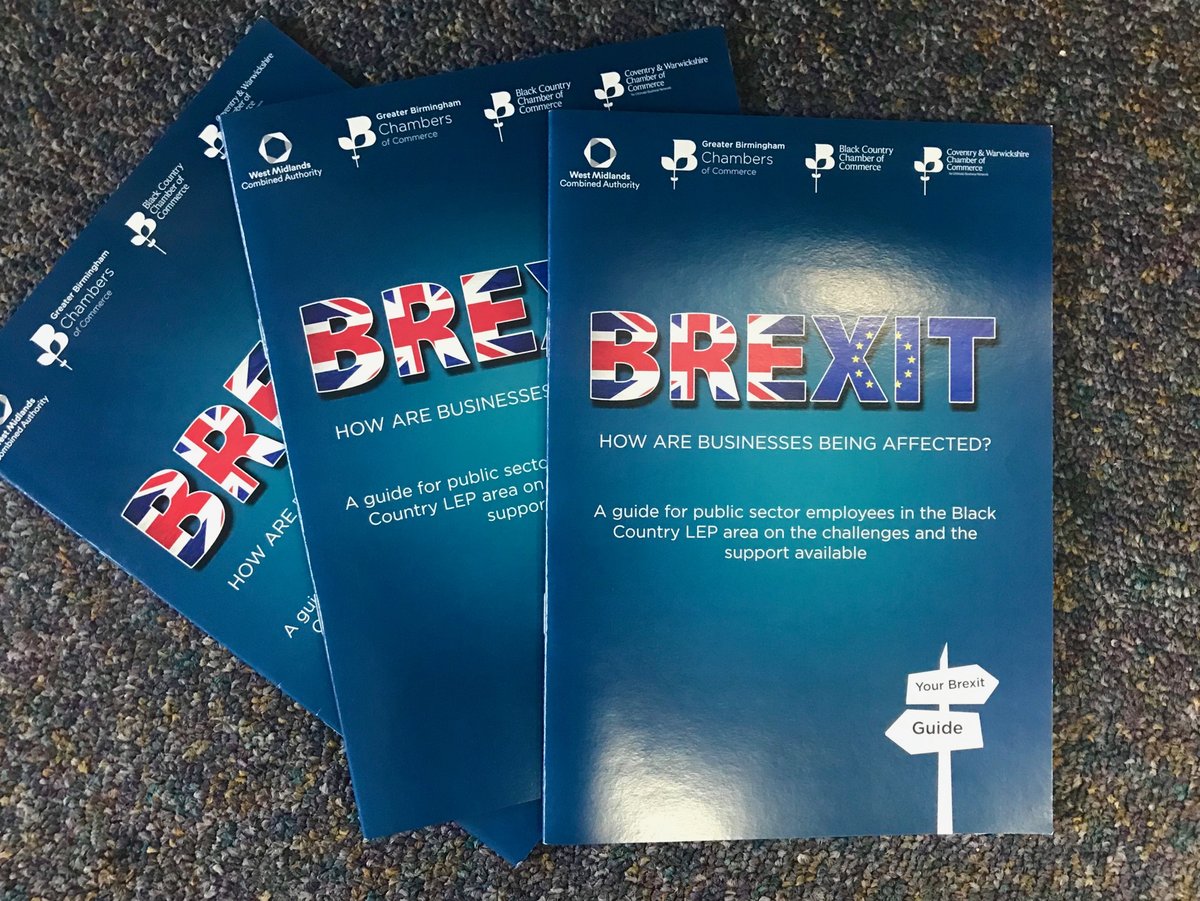 Business leaders put pressure on new PM
25 Jul 2019
Published in: Black Country Chamber of Commerce News
---
Business leaders put pressure on new PM
---
Business leaders put pressure on new PM to sort out Brexit
Business leaders today urged new Prime Minister Boris Johnson to deliver a final outcome on Brexit, with days to go until the UK's scheduled departure from the EU.
Mr Johnson's victory in the Conservative Party leadership contest this week coincided with just 100-days to go until the 31 October deadline for Brexit.
According to a new report, most businesses in the West Midlands are not ready for Brexit despite many of them citing it as their principal concern.
And business leaders blamed the government for failing to clarify what the final outcome will be.
The comprehensive report has been launched by the West Midlands Combined Authority (WMCA), Greater Birmingham Chambers of Commerce (GBCC), Black Country Chamber of Commerce (BCCC) and Coventry & Warwickshire Chamber of Commerce (CWCC).
Key findings in the report include:
• On average, businesses do not feel significantly well prepared for Brexit, scoring between 2.5 and 3 out of 5 on the Brexit Readiness Index.
• Businesses report feeling most prepared for the people and skills aspects of Brexit and least for the business support and procurement aspects.
• However, Businesses also report being exposed to Brexit-related change in a higher number of areas within trade and people and skills than business support & procurement indicating that this lack of preparedness may stem from a lack of direct exposure to risks in this area.
• Businesses are most commonly exposed to Brexit-related change through their employees (pensions, professional qualifications, business trips and employing EU nationals) and trading arrangements (existing contracts with EU based organisations and EU based suppliers).
• Businesses are most likely to have responded to Brexit by discussing the potential impact at a senior level. A majority of respondents have not undertaken a thorough review of their organisation to identify Brexit-related risks (to the knowledge of the respondents).
• Brexit-related factors are the most commonly reported principal concern of employers in the West Midlands Combined Authority area followed by concerns relating to an increasing cost of doing business.
• Regional business sentiment on improving profitability over the next 12 months remains strong while Capex investment remains sluggish, particularly among services sector firms.
The report is based on Chamber surveys and anonymised data from the Business Brexit Health Check. The Health Check is a free online tool for businesses that offers a personalised report highlighting key areas where they may be exposed to Brexit related change and top tips for preparing.
Corin Crane, chief executive of the BCCC, said: "The data collected through the Brexit Health Check proves that businesses in the West Midlands are simply not ready for Brexit.
"The West Midlands is home to some world-leading firms and it is worrying that overall preparation and understanding of Brexit remains low. Although our businesses are incredibly resilient, continued uncertainty and a messy and disorderly Brexit will test their resolve.
"We know from our daily conversations with members that many crucial issues remain fundamentally unclear.
"From the employment of EU-born workers and trade across borders, to VAT payments and intellectual property, businesses across the region need clarity on what the landscape looks like post-Brexit. "We speak to businesses of all sizes, across all sectors, from automotive and aerospace to hospitality and care. The message is simple: give us the clarity we need to prepare.
"Working with our partners across the West Midlands, we will continue to ensure that the voice of the West Midlands business community is heard at the national level."
Paul Faulkner, chief executive at the GBCC, said: "It's no wonder businesses don't feel prepared for Brexit when the Government has so far failed to clarify what the final outcome will be.
"There's now only just over three months to go until the next Brexit deadline. It's critical that Boris Johnson puts the pageantry of the Conservative leadership election behind him and applies every effort in to finding a way forward on Brexit that also enables businesses and the economy to flourish.
"As it stands, no one can guarantee that we won't see a repeat of the last minute division and confusion on Brexit seen ahead of the last Brexit deadline. In this uncertain environment there are practical steps that all businesses can be taking to help them prepare and be ready to adapt to key scenarios.
"The Business Brexit Health Check can help businesses cut through the nonsense and get the advice and information that matters. Brexit could well be a shock to the system – but it is one we can see coming and no business will want to go underprepared."
Louise Bennett, chief executive at the CWCC, said: "The data shows us that there are still far too many businesses that have not engaged in any Brexit planning.
Even those that believe they will not be directly affected by Brexit may find they could encounter significant disruption, particularly in the event of a messy and disorderly Brexit. "We would therefore urge all businesses to use the time between now and October to understand the risks and do what they can to prepare now.
The Business Brexit Health Check is there to help them start this process and we will be supporting businesses in the region with a range of events and webinars to keep them up to speed with what they need to do."
Take your FREE Business Brexit Health
Check here www.wmca.org.uk/brexithealthcheck