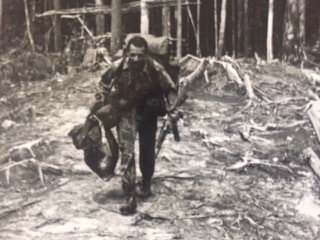 Chair of Chamber Board Shares His Armed Forces Journey
25 Jun 2020
Published in: Black Country Chamber of Commerce News
---
Chair of Chamber Board Shares His Armed Forces Journey
---
Bankie Williams MA, MBA FInstLM, Shares His Armed Forces Journey
Non-Executive Chairman of the Black Country Chamber of Commerce, Bankie Williams, understands first-hand the challenges and rewards a service life can bring having served with the Army for seventeen years (1974-1991).
During his Army career he developed the life skills that have transcended his career and bore the foundations to his career in leadership and management. I joined the Junior Army in 1974 as an Apprentice Chef, although I never had any say in this!
My Father signed me up, believing it unnecessary to first have a conversation with me.
A disciplined childhood made the transition to military life easier for me and after two-years of training at the Army Apprentice Catering college in 1976 I gained my City & Guilds and achieved the rank of Junior Regimental Sergeant Major.
During my first posting to Germany, following a first operational tour of Northern Ireland, it became apparent that my representative sporting abilities were getting in the way of my 'shifts in the kitchen' and by 1979 I had fully qualified as an Army Physical Training Instructor (PTI) and transferred into the Army Physical Training Corps.
My first posting as a PTI was to serve with 1st Battalion the Staffordshire Regiment in Londonderry and then Gibraltar.
Between 1983 - 1985 I served, as the PTI, with 11 Signal Regiment and then 1st Battalion the Royal Welch Fusiliers which included a tour of duty in the Falklands.
In 1986 I successfully completed 'All Arms P-Company' which was followed by the most exciting, challenging and rewarding part of my military career; from 1986 -1991 I was the senior Physical Training Instructor for the world's most elite Special Forces unit, 22 SAS Regiment.
I left the Army in 1991 to start my civilian career working for a management consultancy delivering outdoor learning and management programs.
From there I joined South Staffordshire Water Plc, part of the inducement being a fully funded MBA which I achieved in 1996.
My rise up the corporate ladder occurred with my appointment as Operations Director of a small subsidiary business called Fastfix Plumbing & Heating Limited.
Fastfix morphed into HomeServe for which I became Managing Director the business grew rapidly and entered the FTSE where it resides today.
Since leaving HomeServe I have held a number of senior executive roles across a broad range of organisations.
Since 2003 I have run my own management consultancy and continued my professional development with an MA and taking a number of courses to qualify as a Senior Executive coach.
I recently became a Fellow of the Institute of Leadership & Management.
The military had provided me with well developed man-management and people leadership skills and the ability to communicate with both the 'front-line' and the 'head-shed' with equal success.
It has also given me the discipline and appetite to keep learning and investing in my education, this has been such a key part to my career.
As the Non-Executive chairman for the Black Country Chamber of Commerce I welcome the Chamber Military Network and encourage business to make their pledge to the Armed Forces Covenant the value to business is immeasurable.