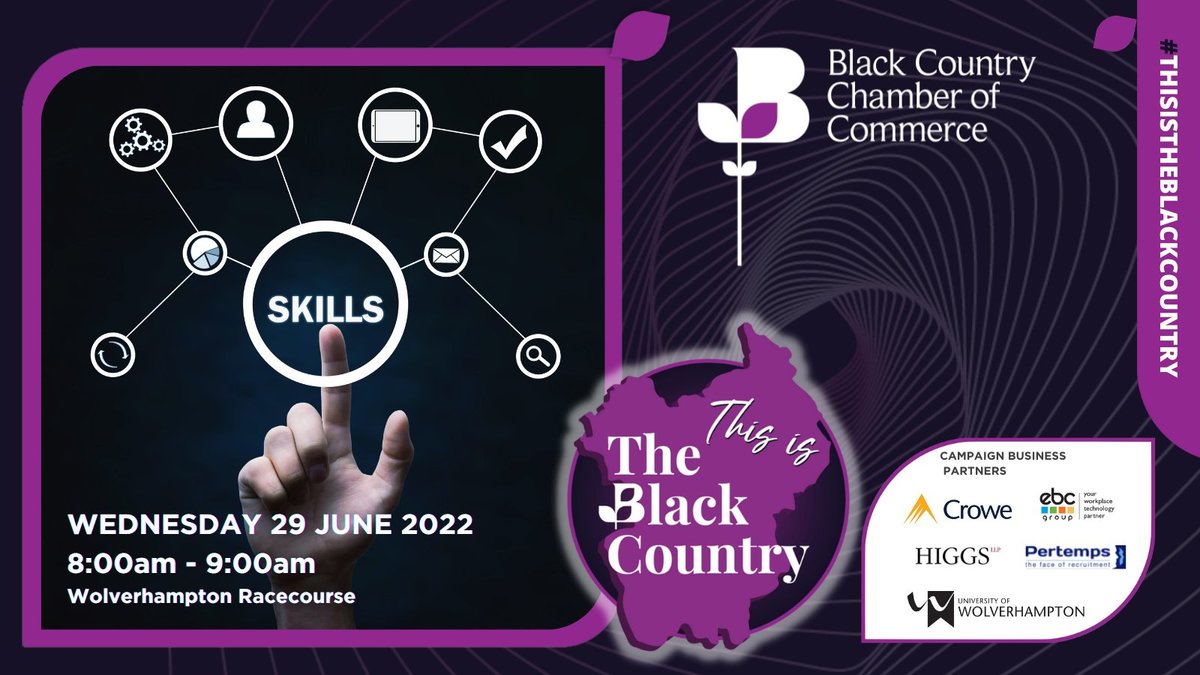 Chamber Calls on Business Leaders to Join Debate on Skills
13 Jun 2022
Published in: Black Country Chamber of Commerce News
---
Business Leaders Urged to Join Debate on Skills
---
Chamber Calls on Business Leaders to Join Debate on Skills
The Black Country Chamber of Commerce are encouraging businesses to join them later this month for the first event in their latest campaign, This Is the Black Country.
'Skills For the Region', an early morning breakfast event held at Wolverhampton Racecourse on 29th June, will be the final public event for current CEO Corin Crane, who will be hosting a panel conversation with campaign partners to explore the skills the region needs to allow businesses to compete locally, nationally and internationally.
Representatives from campaign partners Pertemps, EBC Group and the University of Wolverhampton Business School will join Mr Crane as the Chamber continues to champion the region, its people and its power during its latest campaign which runs until Spring 2023.
Head of External Affairs, Neil Anderson said, "This is the Black Country is working to create awareness and allows us to meet and debate the issues which matter to business today.
"This event will focus on the current skills gap, discuss how businesses across our region can look at recruiting and retaining talent and explore what skills are needed now, and in the future, to make our region competitive across the world.
"Ensuring the region has the right skills to keep our businesses innovative and productive remains high on our agenda and we would encourage businesses across all sectors to join us."
To find out more and book your place visit: https://www.blackcountrychamber.co.uk/events/29062022/skills-for-the-region-this-is-the-black-country/
'This is the Black Country' is the latest big campaign by the region's longest running business support organisation and focuses on the three specific areas; people, place and power to frame much of the Chamber's work over the coming months.
Working in partnership with national audit, tax and advisory firm Crowe UK, recruitment experts Pertemps, Dudley based legal firm Higgs LLP, IT and tech experts EBC Group and the University of Wolverhampton's Business School, the campaign will champion the region as a dynamic and innovative place to do business, promote the area to attract and retain talent and help ensure the Black Country has the best infrastructure, connectivity and access to green energy for the years ahead.
-ENDS-