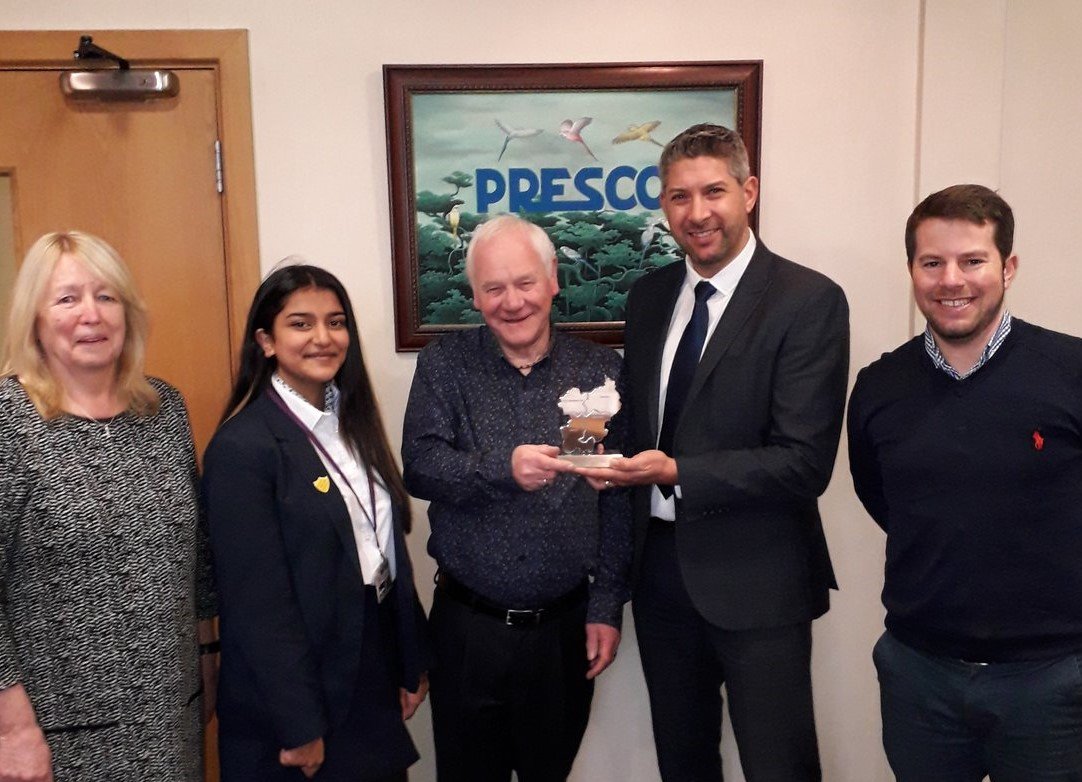 Chamber Celebrates with Longest Standing Member
09 Jan 2020
Published in: Member News
---
Chamber Celebrates with Longest Standing Member
---
Chamber Celebrates with Longest Standing Member
The Black Country Chamber of Commerce presented a specially commissioned award this week to its longest standing member, Presco Components.
Chamber President, Jude Thompson, presented the award, which was specially designed by student Asha Nahl from Q3 Academy Langley, to the Walsall based company who have been Chamber members since January 1964.
The award, featuring a map of the Black Country, was manufactured by Ashley Wainwright and his colleagues from Chamber Patron member, In-Comm Training in Aldridge.
Presco Components, based in Selbourne Street, are a pioneer and driving force in the market for scaffold fittings, couplers and ancillary items.
Managing Director John Morgan said, "Presco Components have enjoyed membership since early 1964, and all through this long relationship the company has benefited from the many services that the Chamber provides. We look forward to many more years of working together in the future, to the benefit of both organisations."
Jude Thompson, Chamber President said "It's brilliant to see members having such a long-standing relationship with the Chamber, it was an honour to meet John and Linda and to present them with the award. It was also great to meet Asha the young lady who designed the award and to see her original drawing bought to life."
The design of the award was a great collaboration between Chamber stakeholders and members with designer Asha - a student from Q3 Academy Langley saying, "I feel very proud that my design has been used to celebrate the hard-working ambassadors for the Black Country."

Peter Lee the Head of Q3 Academy Langley said "Q3 Academy Langley is extremely proud to be involved with the Black Country Chamber and to have one of our students' work recognised is an honour. Asha is a dedicated asset to the academy and it is lovely to see her hard work and determination paying off. We wish Asha success in every aspect of her future endeavours."

Paul Hodgetts, Business Development Manager from In-Comm Training said, "It's a great achievement being a member of Black Country Chamber for such a long period showing loyalty and trust, we were honoured to produce this fantastically designed trophy to mark the occasion".
-ENDS-
Notes:
Presco Components, now owned by Brisko, are a leading and highly respected manufacturer of high quality, durable and cost-effective scaffolding fittings and ancillary equipment.
They have earned a domestic and international reputation as a preferred supplier for projects large and small.
Presco™ fittings are used with complete confidence worldwide in construction, refurbishment, power stations and petro-chemical and oil-related industries.
All components are manufactured to the highest British and International standards.