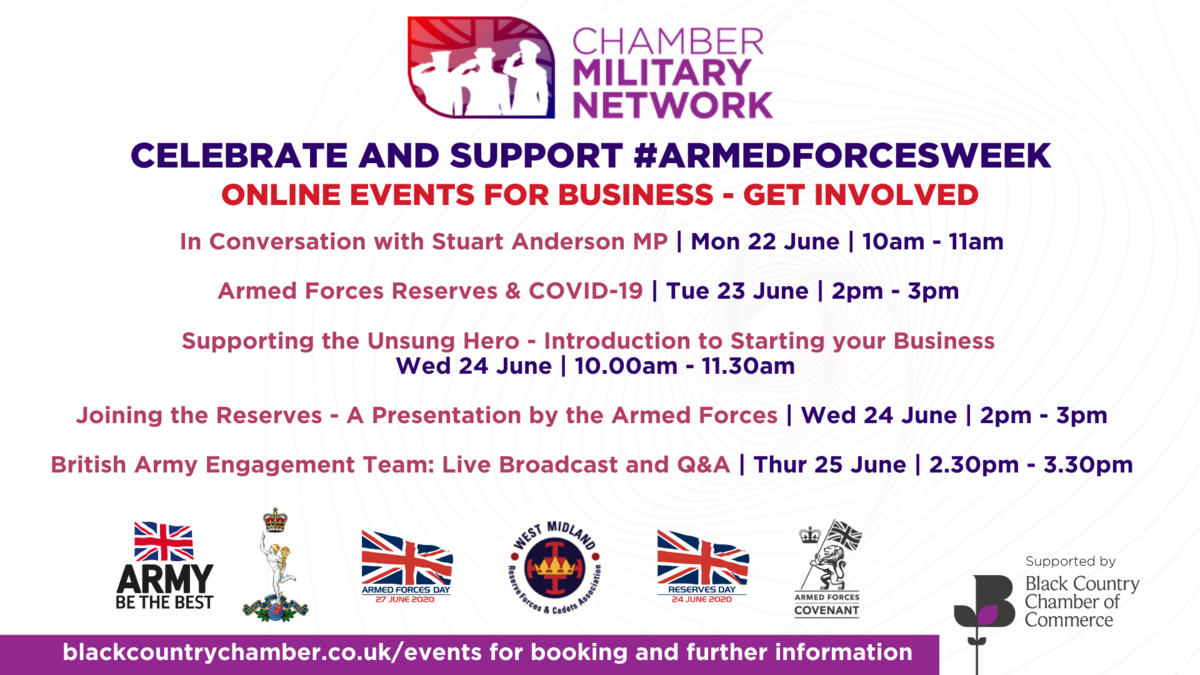 Chamber Military Network to Celebrate Armed Forces Week
19 Jun 2020
Published in: Black Country Chamber of Commerce News
---
Chamber Military Network to Celebrate Armed Forces Week
---
Chamber Military Network to Celebrate Armed Forces Week
The Black Country Chamber of Commerce has announced a week-long series of live webinars with politicians and military representatives during Armed Forces Week.
Armed Forces Week, held each June, gives the British public the chance to discover more about the work of the UK Armed Forces with each day dedicated to celebrating a different part of the military.
Launching next week, 22nd through to the 27th, The Chamber Military Network, led by the Black Country Chamber which supports Chambers of Commerce and their members to embrace and advocate the Armed Forces Covenant, will run a number of events giving an insight into their work to highlight the positive impact for business, and the local economy, that the Armed Forces Covenant can bring.
On Monday 22nd
Chamber CEO Corin Crane will be joined by Stuart Anderson, MP for Wolverhampton South, himself a former member of the British Army. Stuart, whose father was a member of the Special Air Service, (SAS), joined the Army immediately after leaving school.
Suffering an injury and overcoming considerable adversity before going on to complete tours in Northern Ireland and Europe.
After leaving the Army, Stuart worked in the defence and security industry and became founder and CEO of an award-winning business, using technology to help companies keep their employees safe as they travel the globe.
Stuart was elected a county councillor in 2017 and, upon entering parliament last year, became an active member of the Defence Select Committee.
Tuesday 23rd June
The Chamber Military Network is running a webinar today with guest speakers to provide more information about the Armed Forces and to discuss how our local Reserves units have stepped up in response to COVID-19 and more.
This event is being hosted online by Sarah Walker, Project Lead for the Chamber Military Network, speakers include: • Lt Col Matthew Longcake - Commanding Officer of 37 Signal Regiment Redditch Lt Col Matthew Longcake will give an insight into how our local reserves units have stepped up in the response to COVID-19 and how they have played their part in Op Rescript.
• Sarah Walker - Project Lead at the Chamber Military Network Sarah will introduce the Armed Forces Covenant with the chance for businesses to find out how they can get involved in the various projects.
• Bobby Birdi - Regional Employment Engagement Director at WMRFCA Bobby will discuss the role of the Reginal Employer Engagement Directors at the West Midlands Reserves Forces Cadets Association (WMRFCA).
To book please visit the Chamber events page: https://www.blackcountrychamber.co.uk/events/
Wednesday 24th June – Reserves Day
Wednesday 24th is Reserves Day when celebrations take place to honour the many thousands of people who give their time to the armed forces whilst continuing their 'day job'.
The webinar today is aimed at those who are interested in finding out more about the Royal Navy Reserves, Army Reserves or Royal Air Force Reserves.
Reservists give up their spare time to serve in the Reserve Forces, balancing their civilian life with a military career to ensure that, should their country require them, they would be ready to serve.
The training, skills and experiences gained in the reserves can be used to improve performance in the workplace and can enhance skills in areas such as leadership, teamwork, communication, and decision making, often in challenging situations and environments.
The West Midland Reserve Forces & Cadet Association (WMRFCA) are inviting businesses to a free online zoom event to mark Armed Forces & Reserves Day 2020.
This special event will feature presentations from the Royal Navy, Army and Royal Air Force, and is a great opportunity to learn more and ask questions about whether Reserve service is for you.
GET INVOLVED
Please confirm your attendance by contacting Bobby Birdi at wm-reed@rfca.mod.uk. For more information, please contact the WMRFCA engagement team on 0121 274 2225.
Thursday 25th June

Colonel C J Ledsham TD VR Deputy Commander HQ 11 Signals & West Midlands Brigade is inviting businesses for a Live Virtual Broadcast Event and Q&A with The British Army Engagement Team.
The aim of the live broadcast is to provide greater awareness and understanding of the British Army.
Whatever your background, the British Army is 'Your Army' and the purpose of this event is simply to give you a better understanding of how it serves the country.
The presentation includes current information on how the Army is supporting the Government's response to the current Coronavirus pandemic.
With live questions, you can find out how the British Army is serving our nation. Get Involved You can access and register for the live broadcast at: https://virtualbroadcast.yourarmy.co.uk
Webinars are FREE to join and open to members and non-members. For further information please log onto: https://www.blackcountrychamber.co.uk/events/