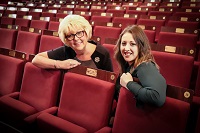 Chamber of Commerce Platinum Group Sponsor Seat at the Grand Theatre
13 Feb 2018
Published in: Member News
---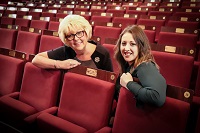 The Black Country Chamber of Commerce's Platinum Group Service Sector membership group have sponsored a seat in the historic auditorium at Wolverhampton Grand Theatre. In return for a donation of £250, the Platinum Group's message will remain on their chosen seat in the Stalls for the next 10 years.
Their donation will support the ongoing charitable work of the Grand Theatre. This includes engaging with the community through a range of projects and workshops to inspire, educate and nurture a passion for the arts. The Grand also invests in ensuring the Theatre has state of the art equipment to support the requirements of patrons with various extra needs.
---
Gail Arnold, the Head of The Platinum Group said: "It is an absolute pleasure to work with the Grand Theatre, who are a valued and very supportive member of The Platinum Group Service Sector.
The Theatre is a fantastic venue in the City of Wolverhampton and offers a great opportunity for businesses to hold corporate meetings such as board meetings, interviews, sales meetings or product launches. Businesses are always looking to raise their brand awareness and sponsoring a seat in this historic Theatre is the ideal way to do this, while supporting the charitable work of the Grand Theatre".
The Platinum group at the Chamber is designed to support its member organisations by sharing best practice, peer to peer working and building business relationships. The Grand Theatre has been a member of the Platinum Service Sector group since July 2016 and has enjoyed business benefits since joining.
Vicky Price, Associate Director of Development & Communications at the Grand Theatre said: "We are delighted the Platinum Group have sponsored a seat at the Grand to help support our charitable activities. The Platinum Group has provided great opportunities for the Theatre since we joined in 2016 and we look forward to developing business relationships with other members throughout this year."