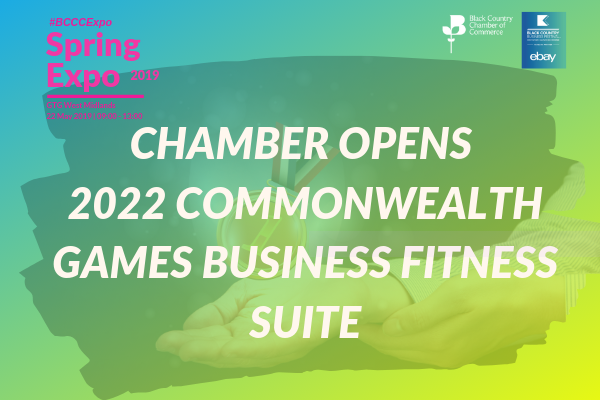 Chamber Opens Commonwealth Games Business Fitness Suite
07 May 2019
Published in: Black Country Chamber of Commerce News
---
The 2022 Commonwealth Games Fitness Suite will be available for businesses during the Spring Expo
---
The Black Country Chamber of Commerce are giving companies the chance to explore business opportunities around Birmingham 2022 Commonwealth Games later this month by running a Commonwealth Games Fitness Suite at their Spring Expo.
Whilst the countdown continues to one of the biggest events in the international sporting calendar the Chamber are inviting companies along to the free event to find out just how they can get involved.
With hundreds of contracts and projects up for grabs, the Chamber are encouraging companies from all sectors to explore tender opportunities and learn more about the tendering process at the event. Delivering the 2022 games will be a mammoth task and with access to the Birmingham 2022 Business Portal, along with guidance from the companies on hand in the Fitness Suite, it is hoped that more Black Country companies will tender for contracts bringing increased revenue into the region.
The Chamber will open the Fitness Suite on Wednesday 22nd May between 9am and 1pm during their Spring Expo at GTG Training Academy in Wednesfield. On hand to advise on the tendering process itself, and offer advice on tender, proposals and bid writing workshops, will be Andrea Childs from Klick Business Solutions.
The Fitness Suite will also house a team of experts from Major Events International, (MEI) a global network of suppliers involved in major sporting events, who will be around to brief the gathered audience on the forthcoming 5th Annual Major Events Summit due to be held in Birmingham. The summit will bring together some of the most influential stakeholders, key commercial suppliers and host organisations from previous, current and future games to share their knowledge.
The Black Country Spring Expo and Commonwealth Games Fitness Suite is free to attend, and the Chamber are encouraging companies to register for the event by visiting the website here.
For further details regarding the event please contact Penny Griffiths on: pennygriffiths@blackcountrychamber.co.uk 01902 912316 or 07976 902118
Event Details:
BLACK COUNTRY CHAMBER SPRING EXPO 22 MAY 2019
09:00 - 13:00
Location: GTG Training Academy & Conference Centre (West Midlands) Bearing Drive Wednesfield West Midlands WV11 3SZ