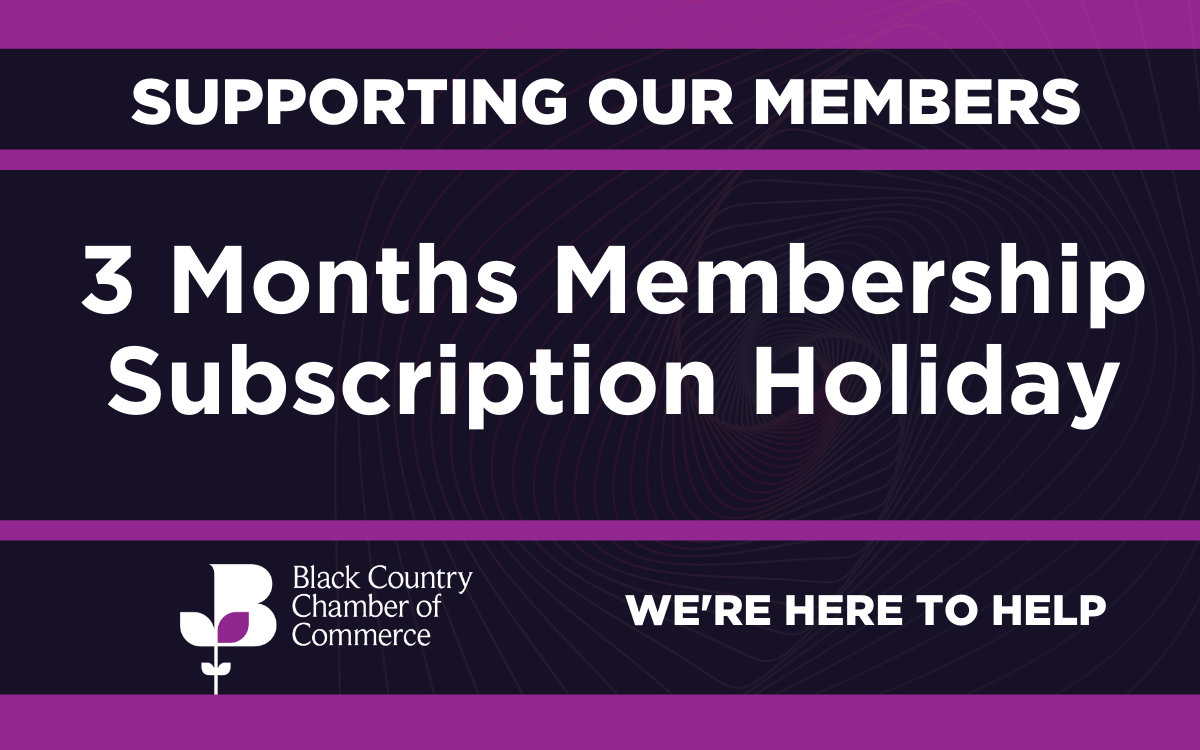 Chamber Steps Up Its Support for Loyal Members
26 Mar 2020
Published in: Black Country Chamber of Commerce News
---
Investing £150,000 into a new scheme, the 160-year old Chamber has today provided every member a subscription payment holiday for the next 3 months.
---
The Black Country Chamber of Commerce has stepped forward with a raft of extra measures today to support its members during the Covid-19 pandemic and economic uncertainty.

Investing £150,000 into a new scheme, the 160-year old Chamber has today provided every member a subscription payment holiday for the next 3 months starting from April 1st ensuring that members can access all of its products and services free during this period.
This will also be extended to new members joining the Chamber who will be welcomed with no fees payable for 3 months.
New members will be able to access all of the benefits and services the Chamber offers for free until the 30 June when billing will commence from 1st July.
The Black Country-based business support agency headed up by CEO Corin Crane, knows only too well that facing up to the realities of doing business in new ways is paramount at this time.
"Following the sudden and unprecedented impact of Covid-19 we recognise that cash flow is likely to be a major challenge for businesses until many restrictions are lifted and markets recover," said Mr Crane.
"All of this adds to the regular challenges and demands that many of our members already face running their businesses. Which is why we have introduced this new measure to help them.
"We want to reassure every member, and new members, that no matter how they are currently working, operating or doing business the Black Country Chamber of Commerce is here for them. As an SME ourselves, we understand the pressures businesses are now facing and we want to do our bit for the region's economic prospects and have responded in a number of ways such as paying all of our suppliers on receipt of invoice and setting aside this £150k to give members a payment holiday.
"We want to ensure that our members are still trading and in a position to grow when we come through this and hope that these gestures help them."
The Chamber has acted as a trusted and valued partner during this period and its platforms remain some of the most accessed and utilised business to business solutions across the region - providing crucial places for members to communicate, promote, meet and highlight their news whilst continuing to receive high levels of engagement and interactions.
Since the Covid-19 crisis began, the Chamber has continued to work for and on behalf of its members to ensure they have access to the best platforms and mechanisms to make connections, share their updates and feel part of a community and has seen a significant increase across its website, social media channels and attendance at its now online events programme.
"We are still here, and we are still working on behalf of our members and want to ensure that the Black Country business community is not forgotten," Corin added, "we continue to lobby hard for our members at the highest levels of government during these uncertain times - ensuring that their business voice is listened to and their concerns responded to.
"These last few weeks might have shifted the way we all do things, but the Chamber is here to help."
Further information about the Chamber can be found by visiting blackcountrychamber.co.uk and any businesses wishing to join the Chamber and take advantage of the new member offer should email richardbrooks@blackcountrychamber.co.uk
Explore our range of membership options here.