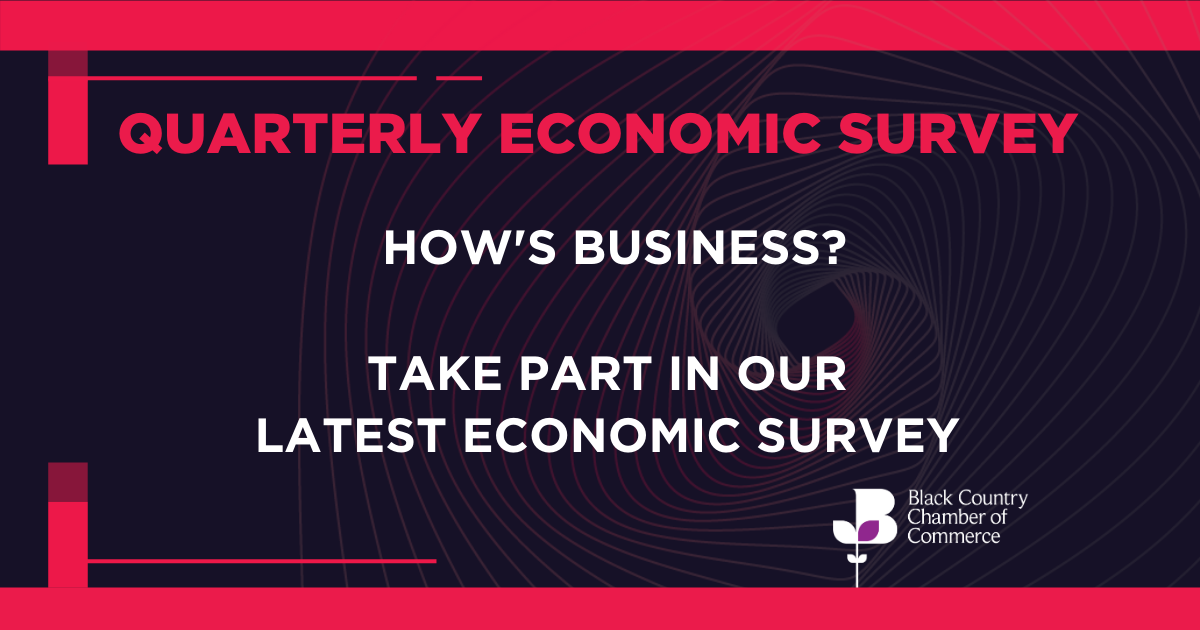 Chamber Urges Businesses To Respond
15 May 2020
Published in: Black Country Chamber of Commerce News
---
Chamber Urges Businesses To Respond
---
Chamber Urges Businesses To Respond
The Black Country Chamber of Commerce has today, 18th May, launched their Quarterly Economic Survey for Q2 2020, the first opportunity for the leading business support agency to survey their members, and the region's businesses, post COVID-19 lockdown to gain a snapshot of those ever more important issues affecting them.
Policy and Lobbying Manager, Matthew Lowe said, "We are asking businesses across the region to take just a few minutes to complete the short questionnaire, it is a crucial time for many firms out there and I am eager to hear from as many as possible.
"We are in unchartered waters and are facing very uncertain times. Our QES is the largest and longest-running business survey in the UK and is a powerful tool for representing the voice of business to Government.
"To retain its reputation as a reliable economic indicator and a powerful tool for lobbying, it is vital that as many businesses as possible respond to it.
He continued, "The QES is a truly unique business survey. The largest private-sector business survey in the UK, no other organisation can offer this sort of insight from such a local perspective.
"We use the survey results to lobby on behalf of our members and raise key policy issues with MPs, local government, and ministerial departments.
"The QES gives us a valuable barometer of the health of the Black Country economy, and as we face such an uncertain future for business and the economy, it has never been more important to hear from the region's firms."

The survey takes around 2 minutes to complete and can be accessed via: https://www.surveymonkey.co.uk/r/QESQ220

On a national level, the QES is a leading indicator – often picking up big changes in the economy long before other surveys or official statistics.

Did you know:
• The Bank of England's Monetary Policy Committee uses the QES as one of its key benchmarks when setting interest rates.
• HM Treasury and the independent Office for Budget Responsibility use the QES to put together their forecasts for the UK's economic performance.