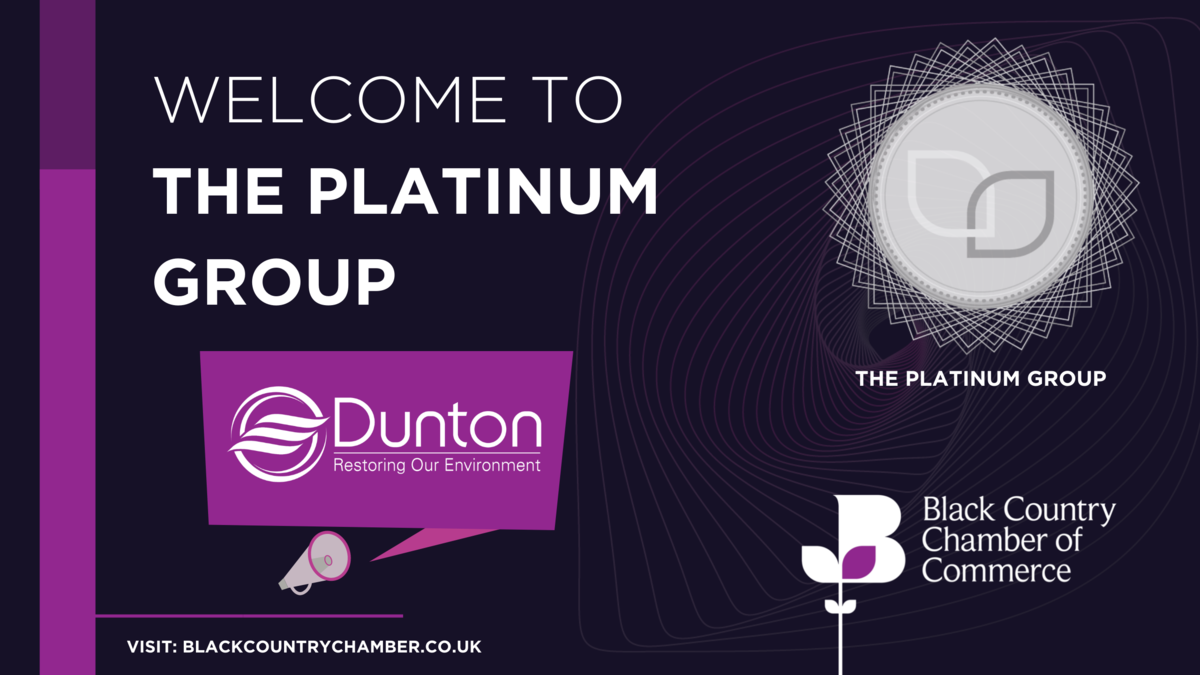 Chamber Welcomes Latest Platinum Group Member
21 Oct 2021
Published in: Black Country Chamber of Commerce News
---
Aldridge-based ground and water remediation solutions specialist joins The Platinum Group
---
The Black Country Chamber of Commerce has this week welcomed Aldridge based Dunton Environmental to its Platinum Group, the Chamber's exclusive platform for business leaders which sees them come together to identify opportunities and tackle some of the challenges that impact their own organisations.

Tony Sadla, Land Partnership Director for the specialist ground remediation and waste management solutions company said, "We have been a Gold Member of Black Country Chamber now for twelve months.
"As we enter this new season, we find that we must up our game, and be amongst like-minded members, we find will assist with our growth plans for the business across all levels of management.
"Our team and I are looking forward to upskilling and meeting more like-minded people, through the networking events and courses that are on offer with the Chamber".
Meanwhile three more of the current Platinum Group's members have renewed their annual membership in recent weeks, including chartered accountants, tax and business advisers, MHA MacIntyre Hudson, Oldbury based commercial heating specialists, Lord Combustion and MET Recruitment, who have offices on the Waterfront, Merry Hill and Wolverhampton.
Managing Director for MET Recruitment, Robin Tong said, "We didn't think twice about renewing our Platinum Group membership. Since joining the group we have forged a fantastic relationship with Gail who has supported us tirelessly every step of the way. "As Managing Director,
"I have also seen a great deal of value in attending the peer to peer advisor group sessions, where I've had the opportunity to collaborate with other business leaders in the region."
Gail Arnold, head of premium memberships at the Black Country Chamber said, "I'm thrilled to reaffirm these longstanding partnerships and I look forward to continuing our on-going work with every member of the Platinum Group.
A number of Black Country based business and long-standing members of the Platinum Group have also chosen to continue their membership in recent months and benefit from the continued support the group offers, including Dolphin Lifts Midlands Ltd, ASSA ABLOY and Voestalpine Metsec plc.
For further information about the Platinum Group visit: https://www.blackcountrychamber.co.uk/membership/membership-packages/the-platinum-group/