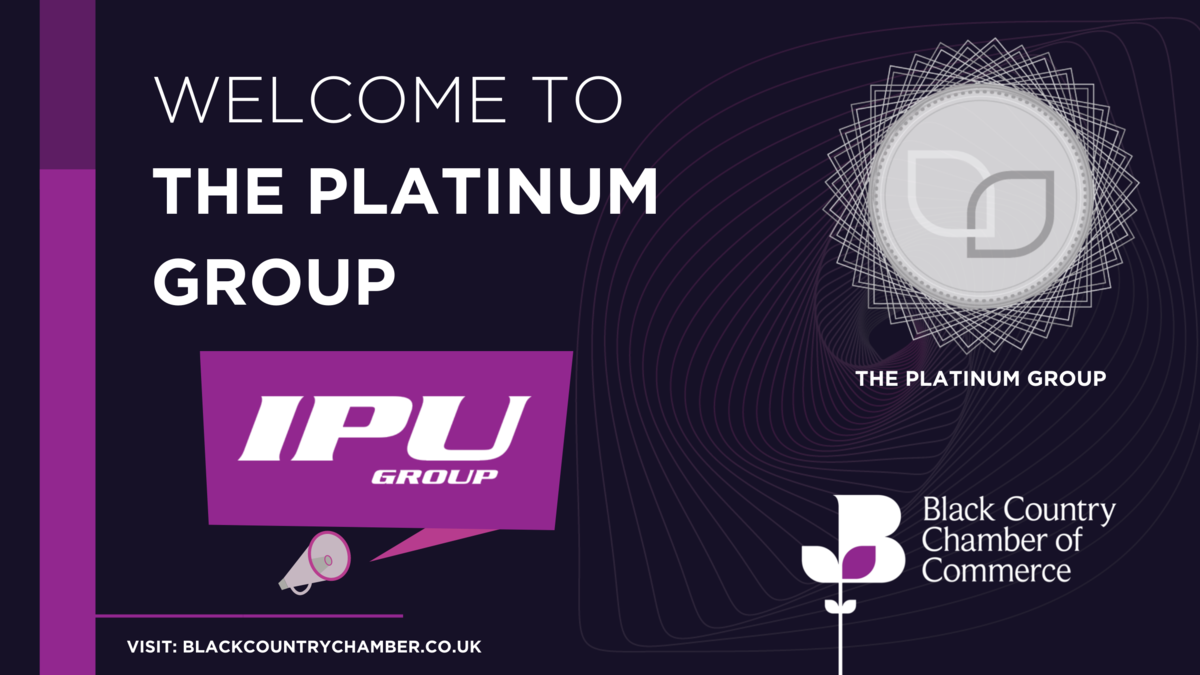 Chamber Welcomes Platinum Group Member
11 Oct 2021
Published in: Black Country Chamber of Commerce News
---
Chamber Welcomes Platinum Group Member
---
Chamber Welcomes Platinum Group Member
The Black Country Chamber of Commerce has this month welcomed the IPU Group to its Platinum Group, the Chamber's exclusive platform for business leaders which sees them come together to identify opportunities and tackle some of the challenges that impact their own organisations. Industrial Power Units, based on Cygnus Way in West Bromwich, are designers, manufacturers and distributers of high-quality parts, services, and systems for critical diesel and gas engine applications.
Louise Hazel is the company's Group Managing Director, she said, "IPU Group are delighted to join the Platinum Group at the Black Country Chamber of Commerce.
"Having been a general member for a number of years, we have enjoyed a lot of support through the various associations, guidance, updates and with the ongoing challenges facing business as we come out of the Covid Pandemic, we wanted to widen our scope of support, particularly with a local association.
"Specifically, for IPU as an importer and exporter of goods, the ongoing supply chain disruption and significant price increases across logistics, is putting pressure on our business and this is the type of issue we believe requires a coordinated voice that will represent organisations like us within Government and industry.
"Additionally, we are very keen to get involved in the best practice sharing as part of our Platinum Group membership, we continually look to innovate not just our products, but our systems and processes.
"Leadership development is also a huge factor in our decision to become a Platinum Group member, as we begin the next phase of IPU's growth journey – we intend to utilise every opportunity made available for our management and executive team to build on our successes to date, look after and nurture our people every step of the way."
Meanwhile several of the current Platinum Group's members have renewed their annual membership in recent weeks, including Smethwick based Vacuum and Atmosphere Services Ltd, (VAS) who support the furnace industry on a global scale, managing director Mike Long said, "We find the local support of the Black Country Chamber and fellow members extremely valuable.
"Gail Arnold's help, support and introductions have helped VAS to offer a better service to all our customers.
"Our staff have also benefited from better working environment and improvements and the additional training, all as a direct involvement of the BCCC."
Tom Williams sales and marketing manager from Walsall based Coinadrink Ltd said, "We renewed our membership of the Platinum Group to continue our involvement in what is a brilliant platform to support our business.
"The Platinum Group brings us many benefits as a business through the various sharing best practice forums and the knowledge sharing amongst members on a whole host of topics. During the past 18 months the constant information updates around the pandemic, legislation changes, and HR considerations have been invaluable and are above and beyond what we have seen from any other membership group we are a part of.
"The Platinum Group allows us the opportunity to meet and build relationships with other business leaders from the Black Country. This has introduced us to new suppliers, generated new customers and opened doors for us into businesses we would have struggled to get access to if it were not for this group.
"We have been long-time members of the Black Country Chamber of Commerce and upgrading our membership to the Platinum Group has been a major benefit to our business. We look forward to our continued membership and the benefits it brings as well as future awards nights and the hopeful return of exhibitions."
Gail Arnold, head of premium memberships at the Black Country Chamber said, "I'm thrilled to reaffirm these longstanding partnerships and I look forward to continuing our on-going work with every member of the Platinum Group."
A number of Black Country based business and long-standing members of the Platinum Group have also chosen to continue and renew their membership to benefit from the continued support the group offers, including Oldbury based, Lord Combustion, Dolphin Lifts Midlands Ltd, ASSA ABLOY, MET Recruitment and Voestalpine Metsec plc.
For further information about the Platinum Group visit: https://www.blackcountrychamber.co.uk/membership/membership-packages/the-platinum-group/