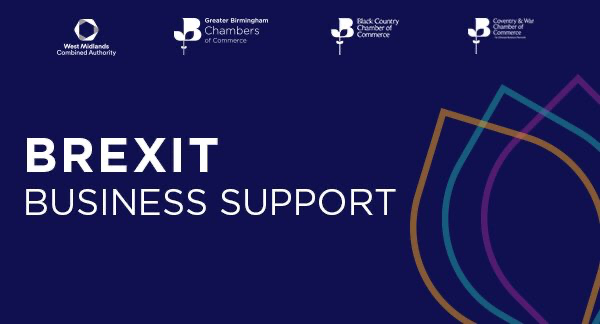 Chambers and WMCA step up Brexit support
08 Sep 2020
Published in: Black Country Chamber of Commerce News
---
Regional Chambers of Commerce and West Midlands Combined Authority (WMCA) are stepping up their free support to help businesses prepare for the end of the Brexit transition period.
---
The WMCA, Black Country Chamber of Commerce (BCCC), Coventry & Warwickshire Chamber of Commerce (C&WCC) and the Greater Birmingham Chambers of Commerce (GBCC), are working together to scale up existing support.

The programme, available between this month and February 2021, gives local businesses access to:
• Fully-funded places on a choice of 24 accredited and non-accredited high quality international trade-focused training courses (worth c.£200+VAT per delegate per course)
• 15 free webinars featuring guest experts on all aspects of preparing for 2021, including intellectual property, data protection and immigration
• One-to-one support with customs and export documentation-related queries
• Digital resources, including business briefings, checklists and videos on key topics. To find out more about the support available, get in touch with our Policy team via email policy@blackcountrychamber.co.uk or telephone 0330 024 0820.

The UK left the EU on the 31 January 2020, and entered a transition period during which nothing has changed practically for businesses.
This transition period will end on the 31 December, 2020, and the New Year will bring a significant number of changes for businesses across trade with the EU, employing non-UK citizens and more. The UK and EU are currently undertaking negotiations on a potential trade deal.
Both sides agree that in order for it to be implemented by the New Year, agreement needs to be reached in October. The UK has ruled out requesting any extension to negotiations.
The UK government has released guidance on a number of areas, including the UK's immigration system, border operating model and import tariffs post-Brexit.
Corin Crane, the BCCC's chief executive, said: "Following months of trade deal discussions between British, EU negotiators and prospective new trading partners, most British business leaders continue to worry about the limited progress made and the consequences of no deals or partially formed agreements.
"This collaboration ensures that support is out there for our importers and exporters with the most relevant and timely detail provided to ensure that West Midland companies are able to navigate the trading landscape following the end of the transition agreement."