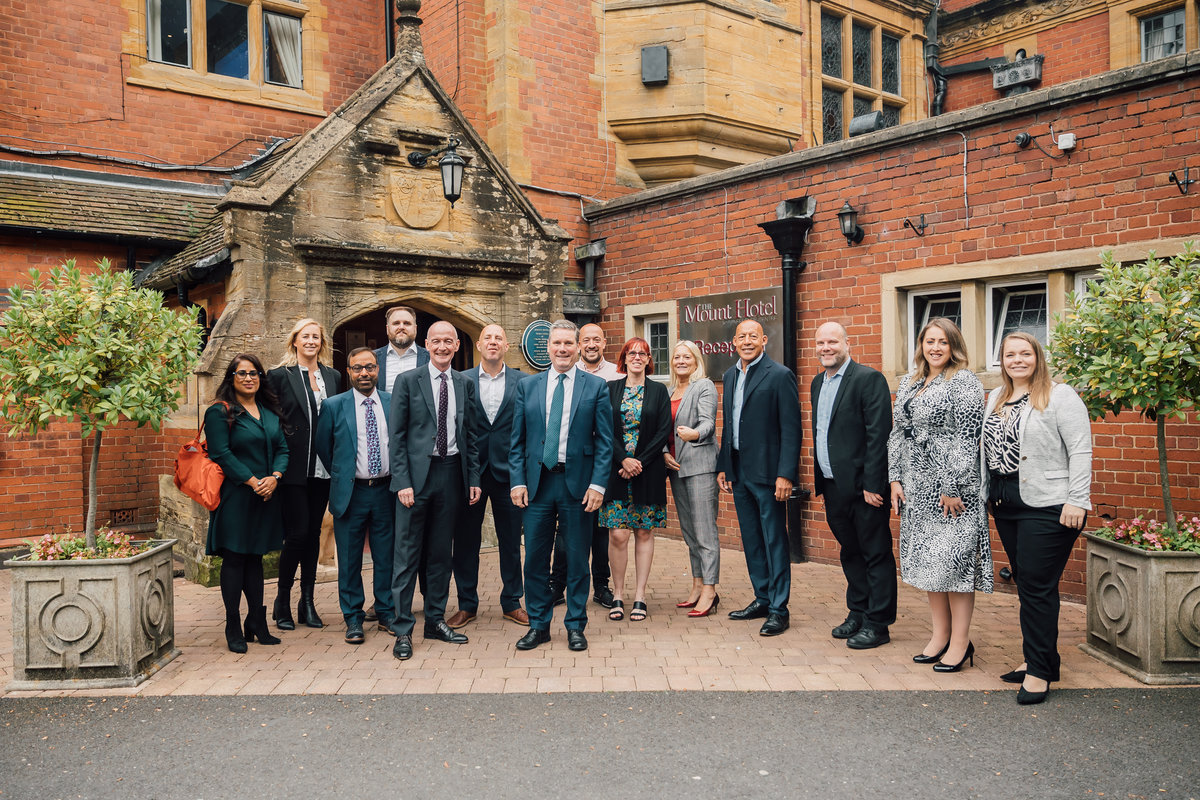 Championing the Voice of Local Business
10 Sep 2021
Published in: Black Country Chamber of Commerce News
---
The Black Country Chamber was joined by Sir Keir Starmer and local businesses who discussed the state of the leisure and tourism industry in the region.
---
At the Mount Country Manor Hotel in August, the Black Country Chamber of Commerce invited members from the hospitality, leisure, cultural and visitor economy to its first breakfast meeting since last year's lockdown in March. Attendees were joined by the Rt Hon Sir Keir Starmer MP, leader of HM Opposition and spoke about their experiences as one of the sectors severely impacted by the pandemic and restrictions.
The Black Country Chamber of Commerce later caught up with the Labour Leader to ask him the challenges the sector faces, other aspects of the economy and what more needs to be done to support regional firms. Below are some of the questions and answers from Sir Keir Starmer.
Q: During lockdown, there were certain sectors that were unable to move their operations to different models and are now at the start of the journey to fully re-open. What needs to be done to ensure these businesses can adapt quickly to a radically altered trading landscape and meet the changing expectations of customers?
A: I know the past 18 months have been exceptionally challenging for many businesses, although the speed at which some have adapted is incredibly impressive.
The Government should be providing two things to help businesses emerge from the pandemic: the certainty they need around advice and testing to allow reopening in a safe and frictionless way, and the financial space businesses need to get themselves back on their feet.
Instead, we've seen a lot of confusing and contradictory advice, Ministers ducking decisions and passing responsibility onto business, as well an end to free workplace testing.
We won't get the recovery we need if businesses that cannot fully open. So, in addition to providing that clarity, Labour would have delayed the increase to employer furlough contributions, and we'd learn from the Labour-led Welsh Government, which has given 100% business rate relief for the course of the financial year to the vast majority of businesses.
Q: We are very proud of our cultural sector in the Black Country and have some brilliant venues, which are important spaces that connect our communities. How can we rebuild public confidence in attending venues and engage with the wider cultural sector to increase a participation?
A: Britain's creative industries are the envy of the world, but the sector has often been at the back of the queue when it comes to support from the Government. Improving ventilation in public buildings is one step that would give people confidence to return to our much-loved theatres and live events.
The Government must also deliver on its promise to creative workers that they won't be subject to unnecessary bureaucracy in the post-Brexit world.
I'm really concerned about children's participation in the arts, which has declined significantly over the past decade. Children from the poorest backgrounds are now three times less likely to take part in any extracurricular activities at all, meaning they are denied the chance to play a musical instrument, visit a theatre or a museum and learn about our country's culture and history. Every child should have these opportunities, which will benefit the cultural sector down the line.
Q: No businesses in the West Midlands would argue against the need for 'levelling-up' the UK economy, but we struggle to get a clear definition of what the current government mean by this. What does 'levelling-up' mean to you?
A: It is clear that "levelling up" is no more than an empty slogan. We see it in the dither and delays to HS2, the widening gap between state and private schools' exam results, and deep cuts to regions like the West Midlands, particularly impacting the police here.
Instead of empty words, Labour has a clear plan to make, buy and sell more in Britain. We can't accept a situation where just one UK-based firm was shortlisted for £2.5 billion worth of contracts for track and tunnel systems for HS2, so we'd ensure more public contracts go to British companies, big and small, by having stretching environmental and social standards companies need to meet.
And we would bring forward £30bn in planned investment, as part of a rapid stimulus package, supporting up to 400,000 green jobs in manufacturing and low-carbon industries.
Q: With the economy in recovery, employment opportunities for young people are higher than ever, but local employers still struggle to recruit staff with the right skills and we have over 140,000 unfilled positions in the West Midlands alone. What can be done to solve this problem? Additionally, With the imminent end to the government's furlough scheme, what needs to be done to help reskill the workforce that are made redundant, helping them adapt to the new economy, for example into new green jobs?
A: There is a generation of young people at risk of being abandoned to long-term unemployment, and we have an urgent need to get workers trained up for a new generation of green jobs. Instead of rising to meet these challenges, current policies are Government is presiding over falling levels of both apprenticeships and adult learners.
We need a national retraining strategy and delivery of Labour's plan for 100,000 new apprenticeships to solve these challenges.
I am committed to offering every young person a real start to their working lives with quality training and employment opportunities. And I know this can only be achieved by working alongside businesses, providing them the support they need. Labour would deliver a wage subsidy, enabling employers to offer the far greater number of apprenticeships that we require.
Q: The Black Country Chamber is working hard to support businesses to make their workforce, their boards and their supply chains more diverse and more inclusive. What role does government have in helping drive this agenda?
A: I'm delighted to hear about the work of the Chamber in tackling inequality across the region's businesses. It's an effort which requires businesses, government and trade unions all pulling in the same direction.
For a start, the Government should be helping parents manage work alongside childcare commitments if we're to end the outdated and sexist assumptions around "Dad in the office, Mum at home with the kids."
Existing policy isn't working. For example, the system of shared parental leave is failing, with less than one in twenty-five eligible fathers using the scheme. Labour would review this failing system to support working parents and create a more diverse workforce.
This would just be the start of a Labour Government's commitment to diversity and inclusion in the workplace and in business.
Q: This region is renowned the world over for its innovation and manufacturing potential with our products and services exported around the world. Having overcome the twin challenges of the pandemic and Brexit, how can we ensure that our businesses recapture their competitive edge and trade confidently and smoothly?
I want to see an export-led recovery, with trade barriers broken down for businesses, bringing investment, jobs and growth across the UK.
Right now, far from "levelling up," support for exporters is focused mainly on London and the South East. For every pound of government-supported inward investment projects in 2019 going to London, the rest of the country saw just £2.
A Labour Government would prioritise trade deals which create jobs and growth in every region; maximise export opportunities for our manufacturing and services sectors; and create export opportunities for small businesses.
Q: Politicians often talk about a partnership between business and government and with the debate live around the future delivery of services for economic growth and business support - what role is there for organisations like Chambers of Commerce to help deliver sustainable and inclusive business support in our towns and cities across the UK?
A: We saw during the pandemic just how vital a role chambers of commerce played in providing advice and support to businesses, at a time of confusion when guidance from the Government was often unclear, as well as being a strong voice for business.
Going forward, I am particularly keen to see chambers establishing strong links with local colleges, to ensure that young people are getting the right training and opportunities they need to prepare them for the world of work.
---
As one of 53 British Chambers of Commerce across the UK, the Black Country Chamber of Commerce sits at the heart of a powerful network as it leads the way in championing the voice of local firms. To find out more about the policy work, email policy@blackcountrychamber.co.uk or visit blackcountrychamber.co.uk