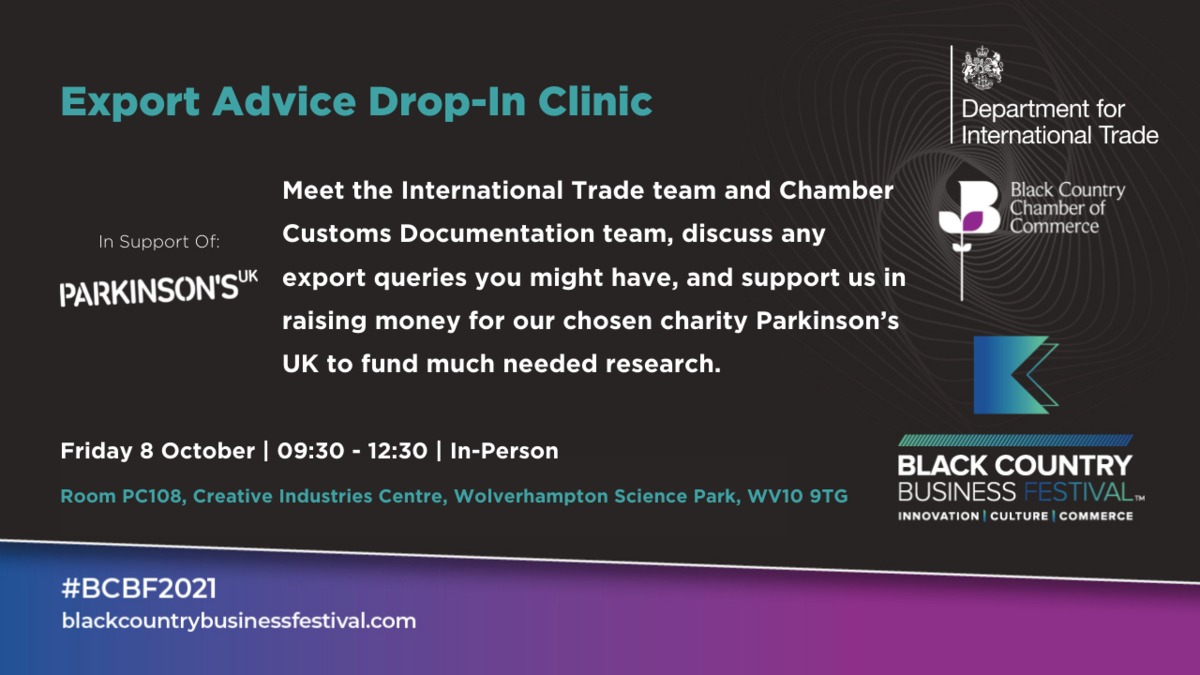 Coffee, Cake and Global Trade…
29 Sep 2021
Published in: Black Country Chamber of Commerce News
---
Coffee, Cake and Global Trade…
---
Coffee, Cake and Global Trade…
Its coffee, cake, fundraising and global trade on the agenda next week as the team of international trade advisors and export documentation experts at the Black Country Chamber of Commerce invite businesses to join them to talk all things export and customs whilst raising money for charity.
The Export Advice Drop-In Clinic will open its doors on Friday the 8th of October from 9.30am at the Creative Industries Centre (Room PC108) on the University of Wolverhampton Science Park as part of this year's Black Country Business Festival.
Businesses are being encouraged to pop in for coffee and cake and to meet the International Trade Team and Export Documentation Team who will all be on hand to chat through and advise anyone wanting to discuss international trade, exporting and customs documentation.
So, they're inviting everyone to come along to put a face to the name, and to pose their own export queries, discuss Internationalisation funding, market development, export finance, international contracts, or to simply find out more about support available to Black Country exporters whilst they raise money for their chosen charity this year, Parkinson's UK, a charity close to the heart of the whole Chamber team.
For further information visit: Export Advice Drop-in Clinic: There's no such thing as the unknown, only things temporarily hidden
Tickets https://bcbf-2021.ticketleap.com/export-advice-drop-in-clinic/
Or to discuss any particular subject please email Jayne.shields@mobile.trade.gov.uk who will be able to book you a time slot with the relevant expert.

Event: Friday 8th October 9.30am – 12.30pm Room PC108 Creative Industries Centre, University of Wolverhampton Science Park, Glaisher Drive, Wolverhampton, WV10 9TG (Sat Nav postcode: WV10 9RU)
Notes:
The 2021 Black Country Business Festival kicks off on 4th October and runs until 15th October offering over 70 events across the region. The Festival is partnered by Talbots Law, Dudley Business First and the Black Country Chamber of Commerce. Sponsors are Thomas Dudley, Casino 36, Sandwell Council, Walsall Council and Sandwell Business Ambassadors. Media Partners are: Elonex, Business Works, Prosper Magazine and Metro