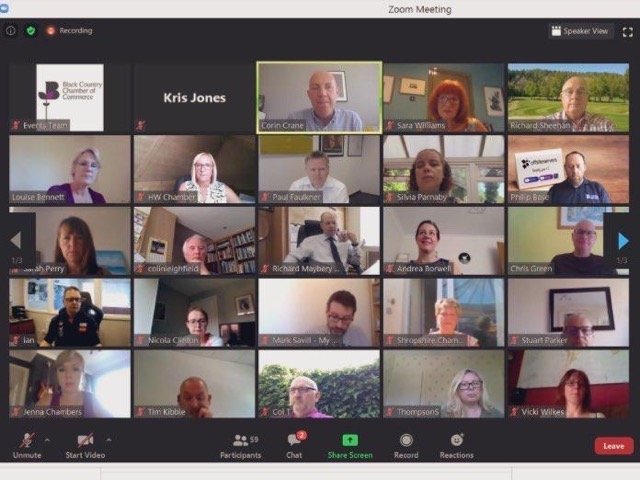 Collaborative Working and Stronger Together From Midland Chamber CEOs
25 Jun 2020
Published in: Black Country Chamber of Commerce News
---
Collaborative Working and Stronger Together From Midland Chamber CEOs
---
Collaborative Working and Stronger Together From Midland Chamber CEOs
Collaborative working and stronger together was the message from today's Chamber CEOs as they addressed businesses from across the Midlands region during their live online and interactive event.
The CEOs, from Chambers of Commerce across the Midlands, including Birmingham, Shropshire, Coventry and Warwickshire, Hereford and Worcester and Staffordshire, joined the Black Country Chamber Chief Executive, Corin Crane earlier today, 25th June, to share their perspectives and observations and to give their own insights into business, the economy and working together going forward on behalf of their members post Covid-19.
Representing thousands of firms and hundreds of thousands of employees collectively, the leaders from the Chamber network, the longest running and most established business support agency in the country, spoke to business owners and leaders from every sector they represent, and told how their teams had worked tirelessly on behalf of members.
After transitioning to work remotely from the very beginning of the crisis, Chamber teams have supported businesses throughout the crisis - fielding many thousands of calls, implementing their crisis communication strategies, undertaking research and extensive lobbying activities whilst pivoting, preparing and strengthening further business support measures to help members through the pandemic.
From the rural counties through to the inner cities and their suburbs, each CEO discussed a number of issues faced by many, if not all of their members; returning safely to work, cash flow, furlough, redundancy, training, and that of skilling the region's workforce to adapt to a changing world.
From Coventry and Warwickshire Chamber, CEO Louise Bennett, described how the 70% dip in apprenticeship start-up since Covid-19 was a real concern and work will continue to lobby the government to incentivise and subsidise employers so the younger generation, and future skills set, is taken care of.
The hospitality and tourism industry has been one of the hardest hit sectors and there were calls from both Hereford and Worcester Chamber CEO, Sharon Smith, and Richard Sheehan from Shropshire, for further support and guidance for sector specific businesses.
Ms Smith reported that 80% of her members had reported almost catastrophic revenue dips and for 22% of them by over 50%.
Staffordshire, famous for its Potteries, reported major manufactures, such as JCB had, through the Chamber headed up by Sara Williams, shared their best practice with smaller manufacturers, and how working closely with their local authority, businesses had been helped with access to funding.
The biggest Chamber in the region, that of Greater Birmingham steered by Paul Faulkner, with its 10 divisions, felt more guidance was needed from government, Paul said, "There needs to be open and honest conversations between employers and employees on returning to work and to help get our businesses thriving again.
"Employers need to build the confidence of their workforce for their return to work which will help rebuild the regional economy."
He added that collectively the Chamber network must continue to "use our voice and speak the truth to power".
With the region looking forward to Coventry's tenure as the City of Culture in 2021, and the Commonwealth Games heading to Birmingham in 2022, those Chambers that sit within the West Midlands Combined Authority area, said it was imperative that businesses must be able to benefit from the huge invest and profile raising these events will bring, whilst going on praise West Midlands Mayor, Andy Street, for setting out a £3 billion recovery plan for the region.
Over the months of crisis, and weeks of lockdown, the Chamber leaders and their teams have worked hand in hand with the British Chambers and Government to advocate for pro-business policies to help companies and the economy survive.
The effectiveness of their advocacy, for the issues businesses face during these uncertain times, has led to funding for employee retention, the extension of the furlough scheme, which is helping to safeguard millions of jobs and provide flexibility for employers, the introduction of the three-month suspension of VAT payments, income support for the self-employed, support for start-ups, SME's, high growth companies and apprenticeships and the protection for commercial tenants.
Black Country Chamber CEO, Corin Crane, who organised the event said, "This will be a first of many between our regional Chamber chief executives. "Today's event has proved that collectively our work on behalf of the Midlands region is more vital than ever.
"The work of Chambers, to lobby on behalf of our members and offer vital business support, is more important than ever now as we face the biggest economic downturn this country has ever experienced.
"Our work to champion the issues our members face, to lobby legislators, to give our members a stronger voice at national and international levels and to play our part in rebuilding business and the economy is vital.
"Chamber of Commerce are at the very heart of their local business community, our own Chamber here in the Black Country is almost 200 years old, and we strongly believe that business is done better together."
-ENDS-
Black Country Chamber CEO, Corin Crane was joined by Sara Williams, Staffordshire Chambers of Commerce, Louise Bennett, Coventry and Warwickshire Chamber of Commerce, Sharon Smith, Hereford and Worcester Chamber of Commerce, Paul Faulkner, Greater Birmingham Chambers of Commerce and Richard Sheehan from Shropshire Chamber of Commerce.