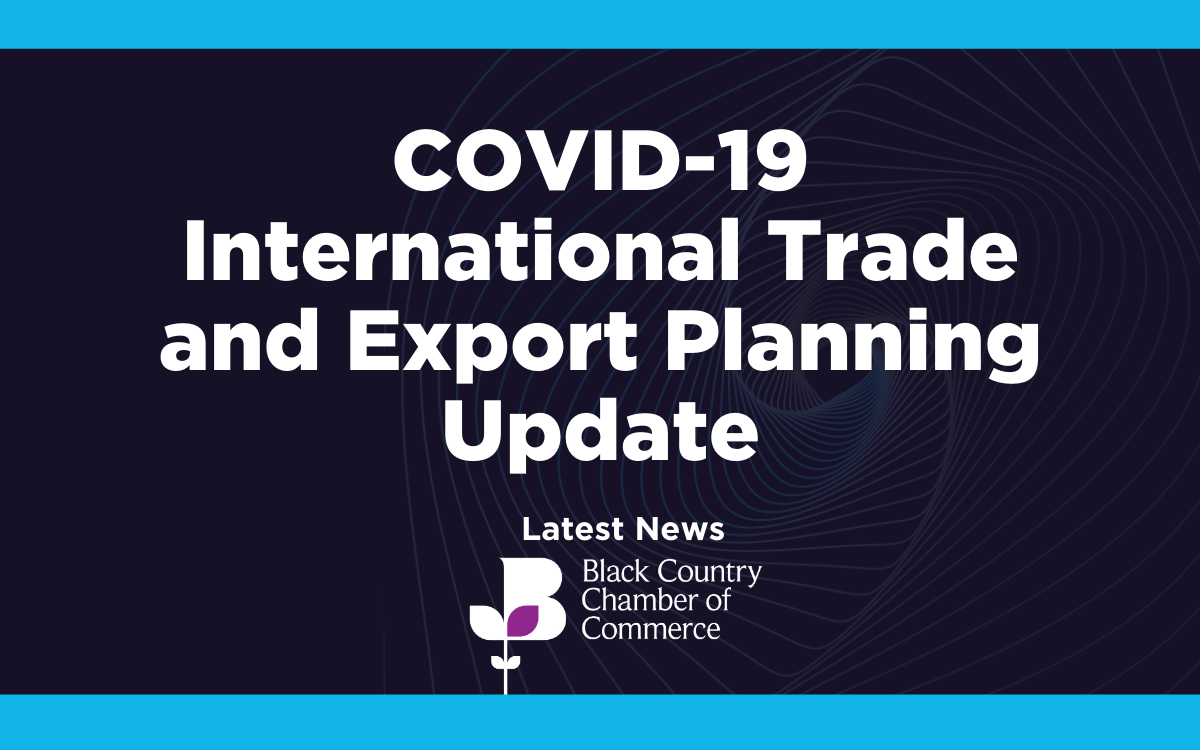 COVID-19 International Trade and Export Planning Update
19 Mar 2020
Published in: Black Country Chamber of Commerce News
---
Black Country Chamber is here to help as the export and DIT team are briefed with the latest information.
---
Within Europe, border controls have been re-introduced in many locations and substantial restrictions on international travel have been imposed.
The position should be checked country by country and is available on the FCO travel advice pages.
Whilst the situation is fluid, our Export Team remain briefed with the latest information and can be contacted by calling 01902 912307 , emailing export@blackcountrychamber.co.uk or browsing our International Trade page here.
Currently, international road freight transport is exempt from many but not all of those of restrictions due to it being an essential activity (please note this may change at short notice). Please also be aware that certain countries and ports have implemented also implemented restrictions on berthing, disembarking and unloading of vessels.
In addition, certain countries have closed most border points, imposed quarantine periods on incoming UK road freight transport crew or refused entry. Speak to us if you are in any date or need to clarification.
The Department of International Trade (DIT) is recommending maritime freight operators check specific information and guidance on international trade and policies (including information relating to crew, berthing and isolation) at any port, and in any country, they are operating in.
The DIT Team based at the Chamber can provide a range of support and advice to businesses and help them to develop longer-term export strategies. The DIT is also gathering business intelligence on the impacts of COVID-19 in relation to export activity - both for existing orders and business moving forward. We advise businesses to stay in touch with their International Advisor in order to ensure that they receive the latest information.
The Black Country Chamber is here to help. Check out our news pages and follow us on social media for reaction and developments or call us on 01902912307 or email export@blackcountrychamber.co.uk.
EXPORT DOCUMENTATION SERVICE UPDATE
We will continue to offer a full normal office-based service for as long as possible. Should circumstances dictate the Chamber has to close then we will not be able to wet stamp and sign export documents (E-ZCERT standard applications) nor accept postal/over the counter applications. Exporters are encouraged to make use of the fully electronic express service via E-ZCERT whenever possible which will continue a normal so long as the internet can cope. Please contact us if you wish to register for E-ZCERT but please be aware that electronically produced documents are not universally accepted.