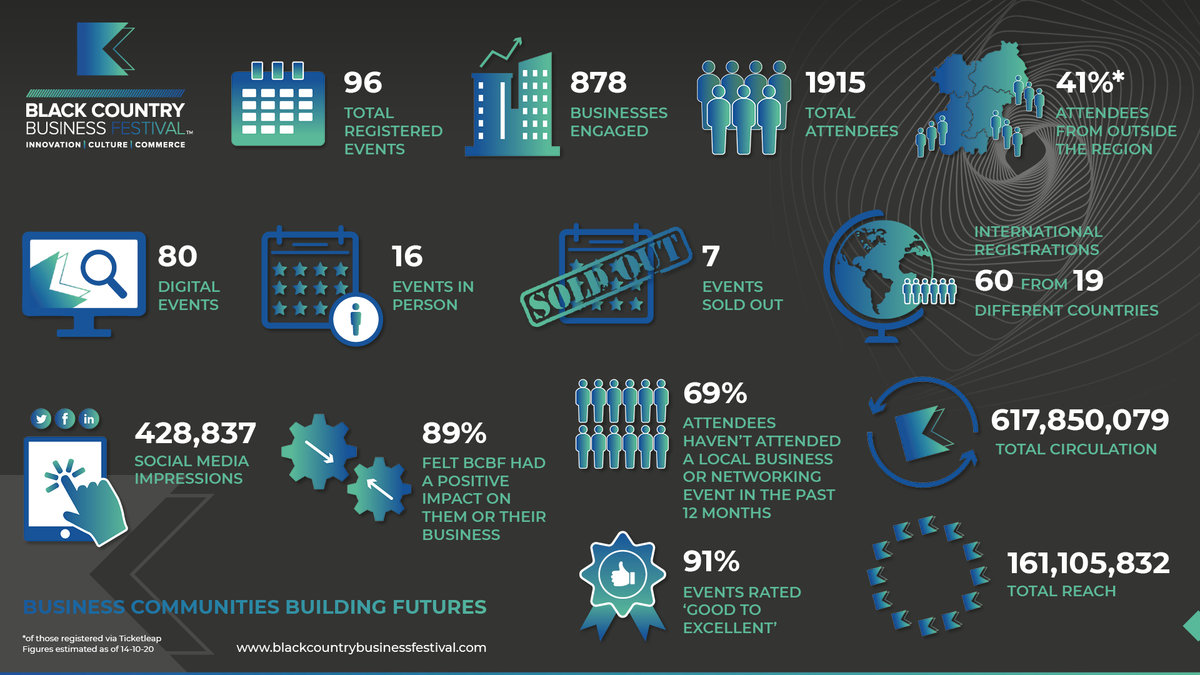 Digital Festival boosts Black Country's global presence
15 Oct 2020
Published in: Black Country Chamber of Commerce News
---
Digital Festival boosts Black Country's global presence
---
Digital Festival boosts Black Country's global presence
The third Black Country Business Festival drew to a close this afternoon [Thursday 15 October] after nine days which have comprised 96 registered business events and nearly 900 businesses that made it happen!
This year's festival - which has been 83 per cent digital - has seen nearly 2000 registrations to attend the events.
Being largely online, people from outside the Black Country have been able to take part very easily – and this has had a staggering effect on the number of international attendees which has seen an increase of 650 percent on last year! In total, there were 60 registrations from 19 different countries across the world including Afghanistan, Canada, Brazil and the USA to name but a few, giving a huge boost to the Black Country's global presence!
Similarly, 41 per cent of registrations were from outside the region, compared to 23 per cent in 2019, showing that the reach of the Festival – at 161 million is certainly expanding.
Corin Crane, chief executive of the black Country Chamber of Commerce said, "Although it has been a turbulent year the festival has seen many positive surprises that I hope we can build on in 2021.
We were forced to make several fundamental changes including moving the dates to going almost completely digital. We have been completely overwhelmed by the response from the Black Country which has rallied together to put on 96 events over the fortnight.
"Nearly 900 different businesses have been involved in pulling this together, whether this has been running events, sponsoring or attending, and at a time when we are being faced with all sorts of limitations because of COVID-19, the Festival achievements this year are more than impressive.
"The enhanced digital aspect has truly opened the Black Country Business Festival up to the rest of the world, helping to place the region's activities not just front and centre of the UK's business agenda, but also on an international level – when it has been required most.
"On a local level, importantly, 89 percent of people told us the events had a positive effect on their business, so the festival has met its objectives to provide support, guidance and knowledge sharing to the people and businesses in the Black Country community.
"As we close the BCBF for another year, my final remarks are of sincere thanks to the companies and organisations that have ensured the continued success and impact of the Business Festival by partnering, sponsoring or supporting. Long may this fantastic engagement continue.
The BCBF relies on sponsorship from organisations in the Black Country and this year has seen an impressive line-up of support. Business Festival Partners have included the Black Country Chamber, Dudley Business First, the University of Wolverhampton, Talbots Law, the Black Country Growth Hub and LEP.
Sponsors have been: Wolverhampton Racecourse, Thomas Dudley, Casino36 and M6toll. The Festival has been supported by: Gecko Programmes, Sandwell Council and Walsall Council with media partners being: Elonex, Bauer Media, Greatest Hits Radio, Metro and app partner, Infonote. The Festival is managed by Associate Events.
-ends-
For press enquiries, contact Sally Stevens: e: hello@blackcountrybusinessfestival.com | t: 01902 912304 | w:www.blackcountrybusinessfestival.com | twitter: @BlackCountryBF | #Thisistheblackcountry About the Black Country Business Festival www.blackcountrybusinessfestival.com

The Black Country Business Festival is an annual festival of business events which will run across the whole Black Country region. This year, it will take place from 5-15 October.
In line with current Government guidance, the Festival has been adapted so that events can be purely digital, or hybrid, (where physical events will be live-streamed).
Event organisers are offered the different options on how they would prefer to run their events
The BCBF is overseen by a board of local, independent business volunteers and the programme is managed by Associate Events in partnership with the Black Country Chamber of Commerce. Festival Partners are University of Wolverhampton, Talbots Law, Dudley Business First, Black Country Local Enterprise Partnership and the Black Country Growth Hub; sponsors are Wolverhampton Racecourse, Thomas Dudley, Casino36 and M6toll.
The Festival is also supported by Gecko Programmes Ltd, Sandwell Council and Walsall Council with media partners Elonex, Greatest Hits Radio, Metro and App partner, Infonote.