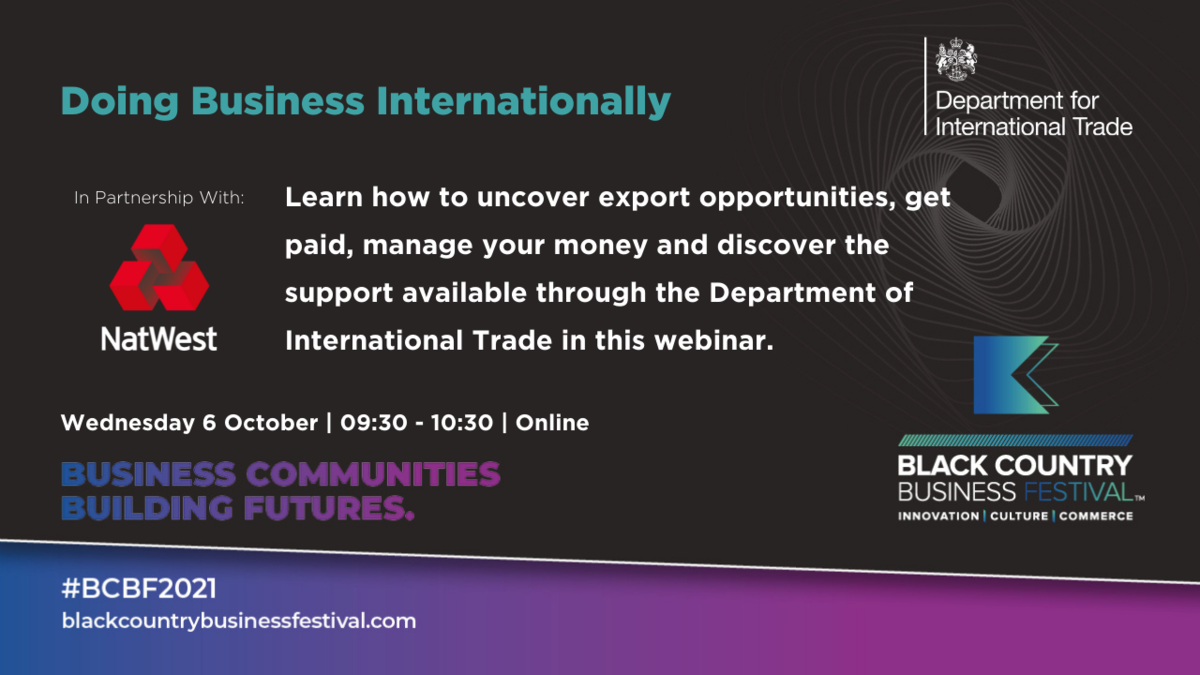 Doing Business Internationally
24 Sep 2021
Published in: Black Country Chamber of Commerce News
---
Join NatWest and the Department for International Trade as they discuss export opportunities
---
Doing Business Internationally
Join NatWest and the Department for International Trade as they discuss export opportunities, getting paid and managing finances whilst trading overseas.
This year's Black Country Business Festival kicks off on Monday 4th October and offers a host of over 70 free events, many organised by the Black Country Chamber of Commerce.
From 4th to 15th October, the Black Country Chamber, along with companies and organisations from across the Black Country, will be running events during the fourth annual Business Festival, aiming to help and inspire other businesses as the economy kick-starts again.
Working closely with banking giant NatWest, the team of DIT experts based in the Black Country are inviting businesses to join them for their live webinar on Wednesday 6th October from 9.30am for an in-depth look into how the bank is supporting businesses to trade overseas.
Surinder Summan, Director of Corporate & Commercial Banking for the Black Country and Jatin Lealh, Corporate Trade Director, from NatWest, will discuss everything exporters need to know to make their international trading safer.
From issues around payments, including Lc's, Bonds and documentary collection through to managing cash with overseas accounts, foreign exchange, import and export finance, payments and support.
Both men will take businesses through all they need to know and discuss everything firms need to be aware of when trading around the globe.
Meanwhile Heather Crocker, International Trade Adviser in the region, will also be on hand to advise how she, and the team of experts based at the Black Country Chamber of Commerce, are helping businesses to export their goods around the world.
Discussing everything from export plans, funding and growth to introducing the region's Export Academy, a one stop shop, available to those firms who are new to exporting.
Anne Lockett, Export Finance Manager at UKEF, will also be on hand to provide information on export finance and give her guidance on the support available from Government.
For further details and to book a place on the live webinar:
click: https://register.gotowebinar.com/register/7189592601893593103
-ENDS-
Notes:
The 2021 BCBF is partnered by Talbots Law, Dudley Business First and the Black Country Chamber of Commerce. Sponsors are Thomas Dudley, Casino 36, Sandwell Council, Walsall Council and Sandwell Business Ambassadors. Media Partners are: Elonex, Business Works, Prosper Magazine and Metro.