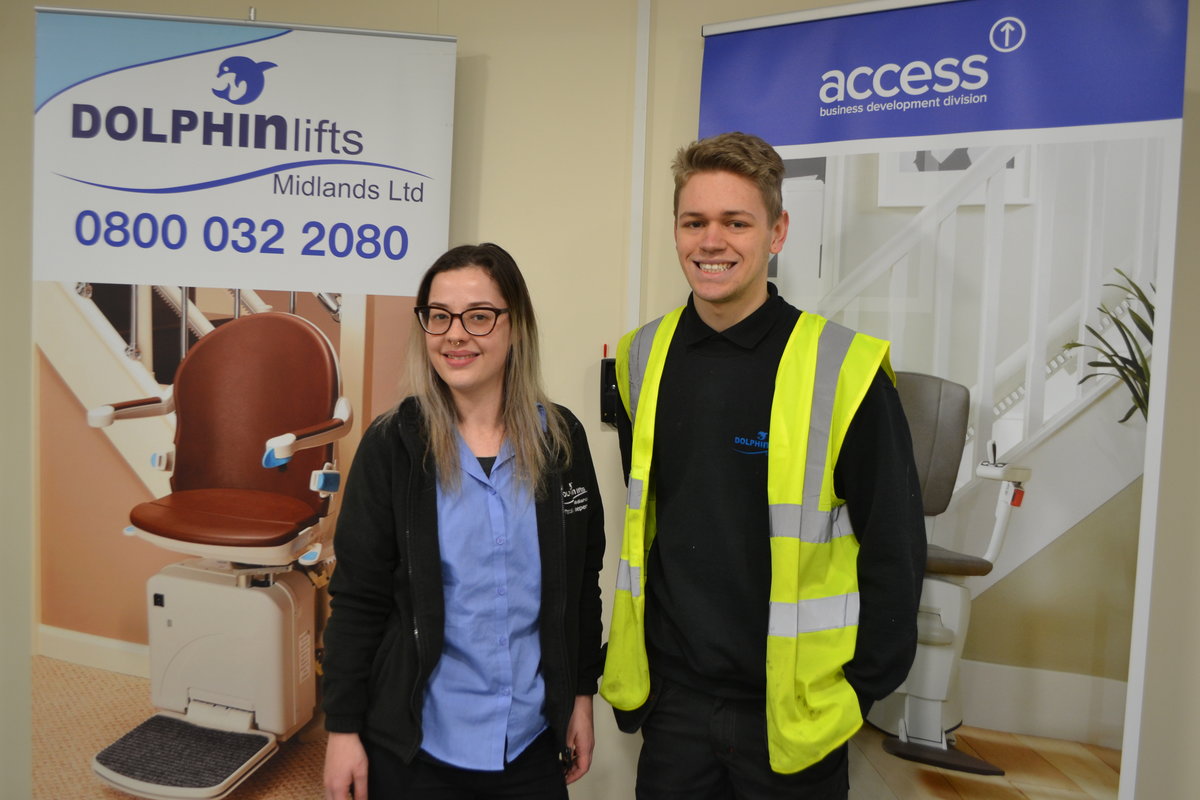 DOLPHIN LIFTS MIDLANDS CELEBRATES NATIONAL APPRENTICESHIP WEEK
07 Feb 2020
Published in: Member News
---
DOLPHIN LIFTS MIDLANDS CELEBRATES NATIONAL APPRENTICESHIP WEEK
---
DOLPHIN LIFTS MIDLANDS CELEBRATES NATIONAL APPRENTICESHIP WEEK
Tipton based Dolphin Lifts Midlands is just one of many companies across the UK benefitting from taking on apprentices in conjunction with a local college.
Working with Sandwell College, the company recently took on two apprentices, David Rowlett and Josh Taylor as Human Resources Manager Katie Williamson explains: "Today's school leavers are our future and here at Dolphin Lifts Midlands we believe passionately about investing in the future.
"For us, recruiting engineers is always a challenge and with most of our engineers being in their late 30's or early 40's we are very aware that there could be a gap in a few years' time so by taking on apprentices now and in the future we will hopefully have the next generation already in place". David applied for the apprenticeship online and following an interview at Sandwell College he was put forward for an interview at Dolphin.
"My father and brother are both engineers and I have always had an interest in engineering so when I saw this opportunity, I knew I had to apply. Everyone here at Dolphin has been really helpful and the good thing about my apprenticeship is that I am learning something new every day. I think it is great that companies invest in apprenticeships and would like to say a big thank you to Katie and everyone else at Dolphin for making me feel so welcome" commented David. As part of his apprenticeship, David will be working four days a week and then attending college on the other day.
"National Apprenticeship Week is a great way to hopefully encourage more companies to get involved and invest in the future as it is so important. There is a huge skills gap in many areas not just engineering but across the board so by going through the apprenticeship route the employer gets the chance to train someone who will hopefully work with them for many years to come and the apprentice gets the skills of the trade they need along with an education. I would certainly urge other companies to follow our lead and get involved as it is incredibly rewarding for all concerned" concluded Katie.
Established for over 30 years, Dolphin Lifts Midlands Ltd is an independent family run business. Over the past three decades, the company has built a reputation for providing its customers with high quality access solutions which are backed by superb levels of customer care and after sales support. The range of products available include stairlifts, wheelchair lifts, through the floor lifts and hoists all of which are manufactured by leading UK companies.
For more information on the full range of products available or to book a no obligation assessment call 0800 032 2080 or visit www.dolphinmidlands.co.uk