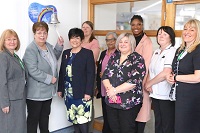 End of Treatment Bell Grand Opening
21 Mar 2018
Published in: Member News
---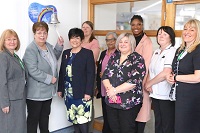 An end of treatment bell has been unveiled at New Cross Hospital in Wolverhampton to commemorate the conclusion of a patient's cancer treatment.
Thanks to the charity, End of Treatment Bells, a special bell has been installed just outside the reception to Deanesly Ward.
Another one has been installed in Cannock Chase Hospital's chemotherapy unit.
---
The bells are there for patients coming to the end of their cancer treatment to ring and celebrate about their big moment.
It was created to represent a symbol of hope for patients who are receiving treatment, as they can see others who have been through the same experience, reach the end of their treatment journey.
One of the first patients to ring the end of treatment bell was Sandra Perkins. Sandra was diagnosed with breast cancer and had a three week course of radiography.
She said: "It is absolutely marvellous to ring that bell as it is a big day for me.
"The treatments have gone quite quickly thanks to the amazing staff who treated and supported me. The people at the hospital are wonderful and make every person feel special. They explain and answer every question. I couldn't have wished for better treatment.
"This is a very happy day. I feel very emotional."
The bell was officially opened by Gillian Phillips, chairwoman of Breast Cancer Support Group, who were instrumental in asking for the bell.
Olympic athlete Denise Lewis also attended the opening of the end of treatment bell and chatted to patients and staff.
Tracey Weetman, Macmillan Nurse Consultant in Cancer Care at The Royal Wolverhampton NHS Trust, said: "I am truly delighted that both chemotherapy and radiotherapy patients will be able to mark the end of a significant phase in their treatment by ringing the bell.
"I am honoured and privileged to be here and to have this bell to mark the end of a treatment. It is marvellous to have.
"I hope it will create a feeling of hope throughout the department as every time we hear the bell ring we will know that somebody else has completed a course of chemotherapy or radiotherapy.
"We also have a bell in Cannock Chase Hospital's chemotherapy unit which will be opened shortly."
Comments
No comments have been submitted yet.