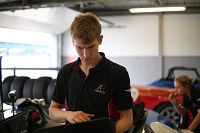 Engineering Student in Drive Towards a Career in Motorsport
25 Jan 2018
Published in: The Chamber Patron Group
---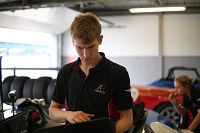 A University of Wolverhampton Engineering student has landed a dream job working in the Motorsport industry.
Jack Barber, 21 from Plaistow in West Sussex, has been offered a job during the Racing Season from February through to December by Neil Brown Engineering (NBE), renowned Motorsport engineer supplier based in Lincolnshire.
NBE will be providing trackside support to all teams in the British Formula 4 Championship and Jack has been employed as the Trackside Race Engineer, a role which will complement his studies as he moves into his final year.
---
Jack is the University of Wolverhampton Race Team (UWR) Data-Engineer, focusing on the Dallara F308 racing car in the Formula 3 Championship, as well as the ARV6 and Babydoll Morgan race cars in the AR Morgan Challenge.
Jack said: "I've been racing and working on karts for around nine years and initially I wanted to be a racing driver, but that soon changed when my passion for improving car performance grew.
"I chose to study at the University of Wolverhampton because of the unique opportunities they offer students to race in professional Motorsport. My job is to find ways to make the cars go faster, partly by including monitoring engine parameters to both maximise performance and ensure reliability.
"Over the last year, I've worked closely with NBE as part of the UWR team, seeking industrial guidance and insight to add to my skills in data analysis. This season, I'm hoping to learn more about engine management and calibration to further increase my skills."
Wayne Mathurin, Sales & Workshop Manager at NBE, said: "Neil Brown Engineering is delighted to offer Jack the career break that he deserves. We've been fully aware of his ability through the University's Formula 3 programme over the last year which made the decision to employ him much easier.
"He has a great attitude towards the job and is already a very competent Data-Engineer, bringing with him skills that he's obviously learned during his time at University. We look forward to welcoming him into the team."
"Professor Ian Oakes, Deputy Vice-Chancellor at the University of Wolverhampton, said: "The significant investment we have made in engineering at our Telford Innovation Campus has now provided us with facilities which are amongst the best in the country combined with a really attractive course offering for students who want to study engineering.
"With a competitive motor racing team and committed sponsors, our students have a real hands-on engineering experience which meets the needs of future employers. This focus on real world experience alongside engineering theory is truly paying dividends as 100% of the UWR race team have gone to secure employment after graduating."
The Race Team recently finished second in the national Formula 3 Cup competition for the second year running. The University has invested £12 million in transforming the engineering facilities at Telford, including creating new workshops with two car bays, benches and professional tools to support the students' work on its racing cars.
Anyone interested in studying Engineering at the University should visit the next Open Day at the Telford Innovation Centre on Saturday 17th February 2018.