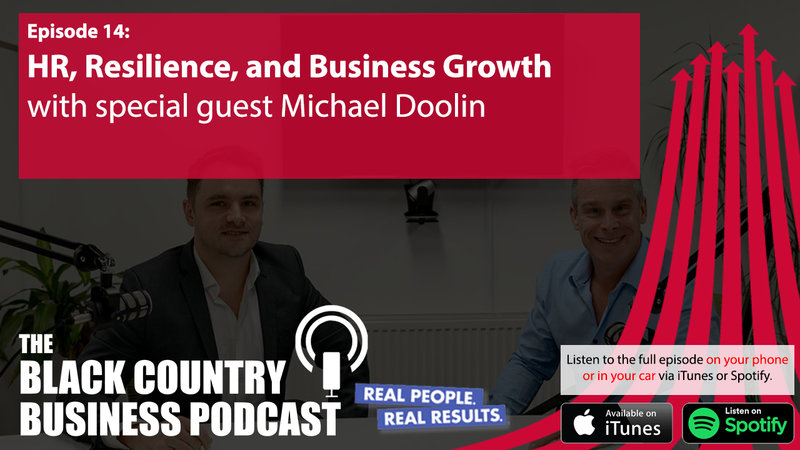 Episode 14 of The Black Country Business Podcast: Interview with Michael Doolin, Clover HR
02 Dec 2020
Published in: Member News
---
HR, Resilience and Business Growth Special with Michael Doolin of Clover HR
---
Ever thought about leaving your corporate career to pursue your vision and put your strengths to work in your own business?
Today's guest Michael Doolin has done just that! Listen to this podcast as Michael (Clover HR) explains how he went from 30 years of working in corporate Human Resources to now owning his own successful business that helps many business owners and their teams across the Black Country, West Midlands, and the UK.
What would you do if there were no limitations?
Would you follow your dreams and vision?
Would you take your experience and put your strengths to work to focus on your lifelong success whilst helping serve more people?
In today's episode, top UK business coaches Lewis Haydon and Andy Hemming interview Michael Doolin from Clover HR where they dig into detail of what created the drive and resilience that has developed Michael as the successful business owner of a leading HR firm that we see today.
Working as a business leader for lots of different industries, Michael understands the value that a great HR function can bring to any organisation of any size. Michael not only shares with you tips from his thirty years of human resource experience from working in large corporate companies, but also shares his journey of what it has took to build a leading HR firm.
Lewis and Andy discuss with Michael his biggest challenges to date with growing his business, and also delve deep into how he overcome the obstacles—including the grit and resilience learnings Michael had to overcome to reach world class levels of customer service for his clients.
Today's episode is perfect for those that can relate to Michael's journey of coming from a corporate firm, and, SME business owners that are looking at leveraging the power of effective of HR in their business.
You can reach out and keep up to date with Clover HR via:
Michael's experience coupled with business coaches Lewis Haydon and Andy Hemming expertise makes this one of the most powerful episodes yet! Listen to it here.
If you have any questions or comments on this episode or would like to speak to Lewis or Andy (your business coaches) then you can reach us via https://blackcountry.actioncoach.co.uk or email andyhemming@actioncoach.com

Submitted by Kerry from ActionCOACH Black Country