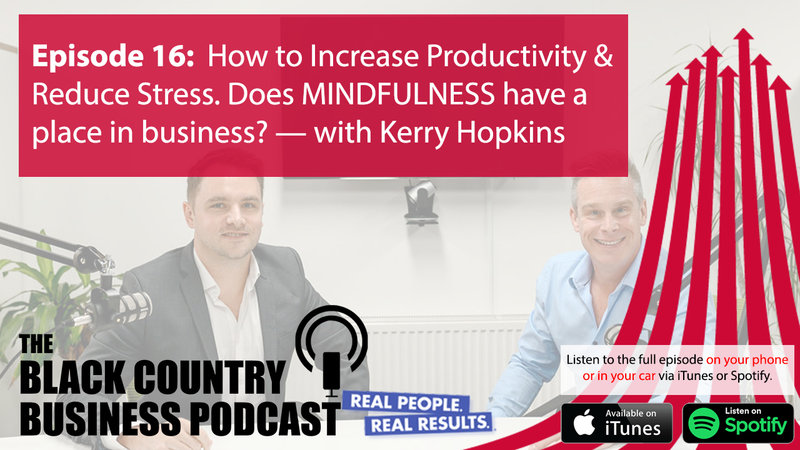 Episode 16 of The Black Country Business Podcast: How to Increase Productivity & Reduce Stress. Does MINDFULNESS have a place in business?
20 Jan 2021
Published in: Member News
---
Could Mindfulness in your business be the thing that gives you that HUGE competitive advantage?
---
What comes to mind when you think of the word 'mindfulness'? Perhaps meditation or going on a relaxing retreat? But what about mindfulness in business? What could it really do for your business if your business was a lot more 'mindful'... find out more of how it may give you that edge in business leadership, sales, and management by listening to this episode.
In this episode of the Black Country Business Podcast, business coaches Lewis Haydon and Kerry Hopkins from ActionCOACH Black Country discuss mindfulness in West Midlands businesses.
Lewis and Kerry not only discuss the true definition of mindfulness in business but also how it could benefit business productivity, stress reduction, and ultimately profit.
Here's the thing... if your business does not incorporate Mindfulness (a free tool) then what opportunities are you missing out on?
What impact is lack of mindfulness having on your work from home employees and their engagement right now?
What performance could your business be achieving if it were to incorporate more mindfulness practice?
Find out the 7 top tips in this episode that you could implement straight away in to your business by listening to the podcast.
To find out more about mindfulness and coaching in your business, visit https://blackcountry.actioncoach.com or call 01527 757 910.
If you would like to find out more about the mindfulness webinar then email kerryhopkins@actioncoach.com

Submitted by Kerry from ActionCOACH Black Country