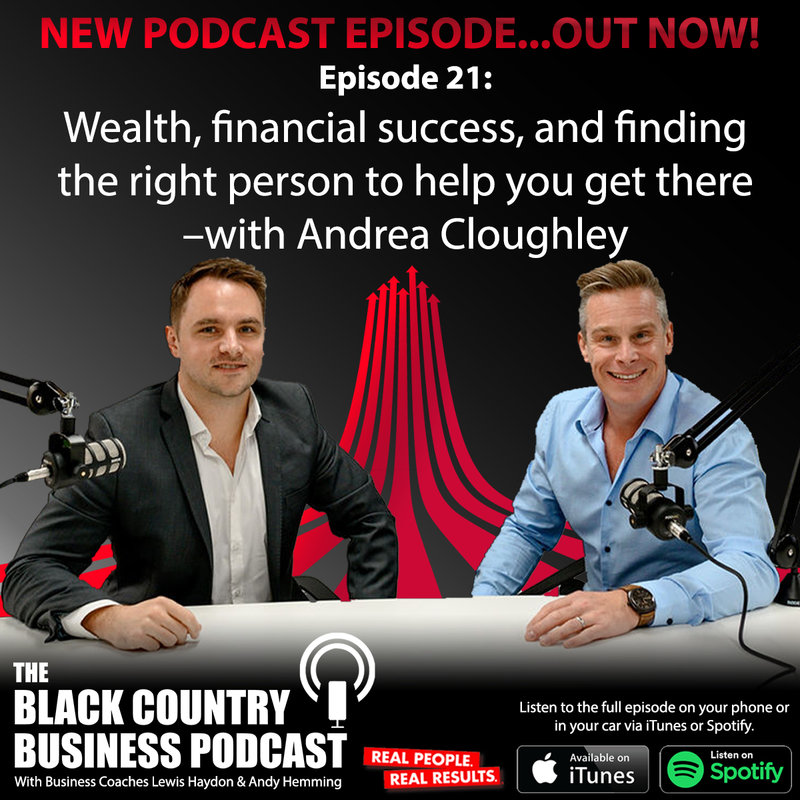 Episode 21 of The Black Country Business Podcast
01 Apr 2021
Published in: Member News
---
Wealth, Financial Success, and finding the RIGHT person to get you there — with Andrea Cloughley
---
What would your future look like if you had a step by step plan and the right financial advisor/coach backing you to get where you want to be?
Listen to the latest episode of The Black Country Business Podcast here.
In this episode, coach Lewis Haydon interviews wealth and financial advisor Andrea Cloughley to find out what the future COULD look like if you had the right plan to get there.
Lewis and Andrea discuss how having a plan and someone that has seen the mistakes people make along the way could save you time and money. Most people go at their wealth and financial journey alone learning the mistakes and lessons along the way. However, with the right person by your side, a lot of these areas on your journey to wealth can be highlighted. The result means that you get to your goals faster, and reach higher levels of success that sometimes could be out of reach without the right direction.
Andrea works with people of all levels. Whether it be working with business owners, or people just starting out, Andrea is experienced with helping people reach their financial goals.
Andrea also discusses her business coaching journey with coach Lewis Haydon. She highlights the challenges she had to overcome in starting her own business and what she did with her coach to be where she is today.
To find out more about Andrea you can visit www.palatinefp.co.uk or PalatineFinancialPlanning on Facebook.
We hope you enjoy the show and take lots of notes on what the next steps for wealth looks like for you.
For more videos and information on putting a plan together for your success and your business, visit https://blackcountry.actioncoach.co.uk
Listen to this, and other episodes of the podcast
here.
Submitted by Kerry from ActionCOACH Black Country