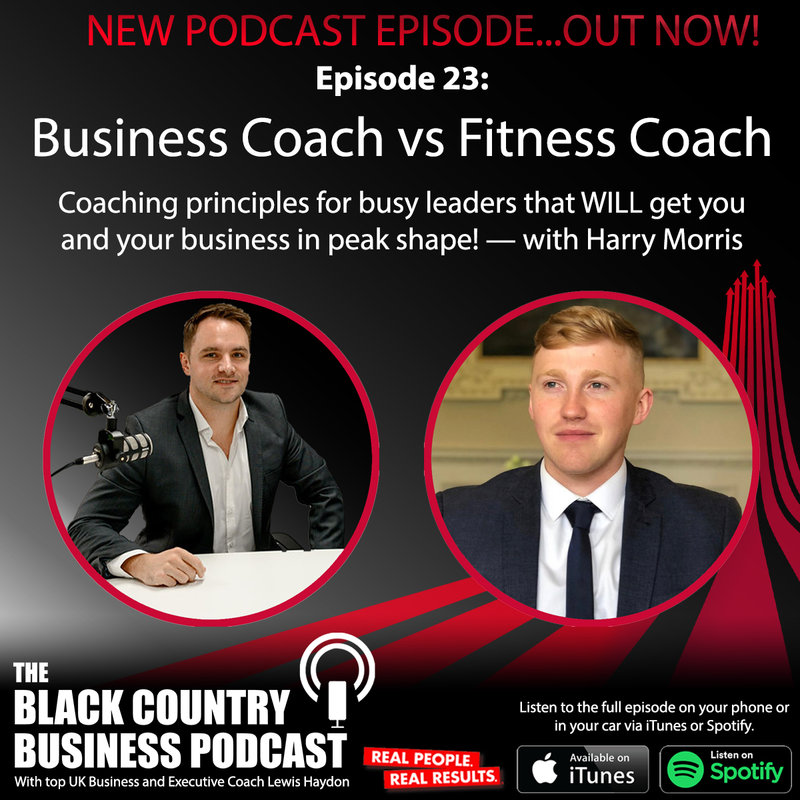 Episode 23 of The Black Country Business Podcast
07 Jun 2021
Published in: Member News
---
Business Coach vs Fitness Coach — with Harry Morris
---
Business Coach vs Fitness Coach. Coaching principles for busy leaders that WILL get you and your business in peak shape! — with Harry Morris
What is the currency of business? Money? Time? Resources?... What about if we thought about it a little differently and really thought about what drives a successful business to MASSIVE SUCCESS!... Find out more by listening to this episode.
In this episode of the Black Country Business Podcast, top UK business and executive coach Lewis Haydon goes up against it with the West Midlands go to fitness coach and health entrepreneur, Harry Morris.
Lewis and Harry discuss the fundamental coaching principles and how you listeners as business leaders can apply this principles into action in your business to accelerate your organisation's results.
Harry works with busy professionals from law firms, to accountants, to business owners and their executives in getting them to where they want to be in health and in life.
Listen to this episode to gain insights from both Harry and Lewis on how you can take actions today that WILL accelerate change and get you more of what you want.
Harry also discusses his journey as an entrepreneur and the challenges he has faced along the way as a young entrepreneur. If you are millennial in business (or younger) or looking to inspire people to follow their dreams in business then this episode is highly recommended!
Sit back and enjoy this episode as we discuss all things coaching and business wealth with Harry Morris from Fitness Studio 46, Brierley Hill (https://www.fitness-studio46.co.uk) You will not be disappointed!

Submitted by Kerry from ActionCOACH Black Country