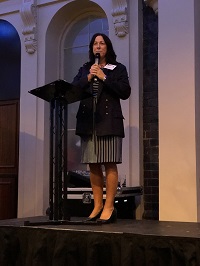 Ethical Finance and Young People Championed by New Chamber President
15 May 2018
Published in: Black Country Chamber of Commerce News
---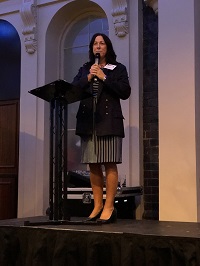 Recently appointed Black Country Chamber President, Julie Cunningham, highlighted the key areas that she will focus upon during her tenure at the Chamber's Business Expo, which took place at the Grand Station in Wolverhampton. In Particular, Julie will look to increase collaborative engagement between schools and businesses across the region and actively promote practices of ethical finance.
Speaking with regards to her Presidency, Julie commented: "I have taken on this role to primarily champion local, civic businesses in the Black Country and lobby on their behalf on key policy areas. We have a couple of campaigns running at the moment which focus on manufacturing, Transport Infrastructure and the dreaded "B' word Brexit - key areas that affect many local businesses. We will also be looking at further policy work over this year.
"In addition, I have a couple of priority areas that I would like to focus on during my Presidency that are very important to me, which relate to the Young Chamber programme and ethical finance.
---
"Our Young Chamber programme is something that I will be focusing upon, as I wholeheartedly believe that we need to act now to support the next generation and ensure that the future workforce of the region is fully equipped to maintain our competitiveness on a global scale. The Chamber is already doing some great work in regards to this, which included a Careers Speed Networking event that took place last week, which saw over 180 students and more than 100 business delegates come together to discuss career pathways and opportunities.
"Furthermore, ethical finance is also important to me, and given my financial background, I have an understanding of the importance of ethical lending in the local community. Therefore, I will be looking to support Credit Unions in the Black Country and champion the opportunity for local employers to support local low-cost loans.
"I look forward to meeting with many of you during my Presidency and thank you for your warm welcome into my new role."
Taking place during the inaugural Black Country Business Festival and sponsored by Rybrook Wolverhampton BMW, the Chamber Business Expo saw more than 300 attendees from the local business community come together to raise their company profile and champion the Black Country as a beacon for innovative enterprise.
Comments
No comments have been submitted yet.