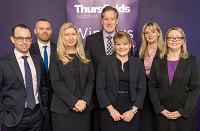 Fast Growing Thursfields Promotes Six to Equity Partner
09 Jan 2018
Published in: Member News
---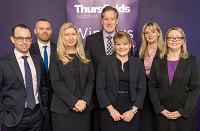 One of the region's fastest growing law firms has appointed six new equity partners as it positions itself for continuing growth.
The appointments at Thursfields Solicitors follow a period of sustained growth for the firm which has enjoyed 20% year on year growth in each of the last four years.
The firm has also continued to pick up awards and plaudits aplenty in the past two years.
---
In 2016, Thursfields won Law Firm of the Year (5-15 partners) at the Birmingham Legal Awards. In 2017, the firm won Herefordshire & Worcestershire Chamber of Commerce Award for Excellence in Professional Services and last month was awarded High Growth Business of the Year at the Black Country Chambers of Commerce Awards.
The new investors, all existing directors at Thursfields, represent each of the firm's disciplines and confirm the succession planning for its existing owners over the next five years.
They include Gareth Burge, a corporate specialist who joined Thursfields in 2014 from Watson, Farley and Williams in London and now leads the firm's corporate team.
Tony Gibb, who leads the firm's commercial property team, joined the firm in 2013 from a local competitor having gained a strong reputation across Worcestershire.
Michelle Hetheridge, an expert in wills and estates, joined Thursfields in 2003 from Shakespeares in Birmingham. She leads the firm's wills and estates team.
Shane Miller is a family law expert and joined Thursfields in 2013. She now sits on the management board and leads the firm's family team
Michelle O'Hara is an employment specialist and joined the firm in 2007 from Eversheds in Birmingham. She now sits on the management board and leads the firm's commercial and litigation teams. She is also responsible for the firm's HR strategy.
Julia Warrilow joined Thursfields from industry in 2012 as the firm's finance director and leads the firm's finance and internal operations teams.
All the new equity partners are recognised as leaders in their fields and were recommended in the 2017 edition of the Legal 500 for providing market leading advice in their areas of expertise.
Following these new appointments, the firm is perfectly placed to continue its growth and reinforce its position as a leading law firm in Worcestershire and the West Midlands
Thursfields' managing director Nick O'Hara, said: "The firm is delighted to welcome new owners which signals the next phase of growth and development for Thursfields. All have a shared passion to focus on the continuing provision of quality legal services to our local communities."