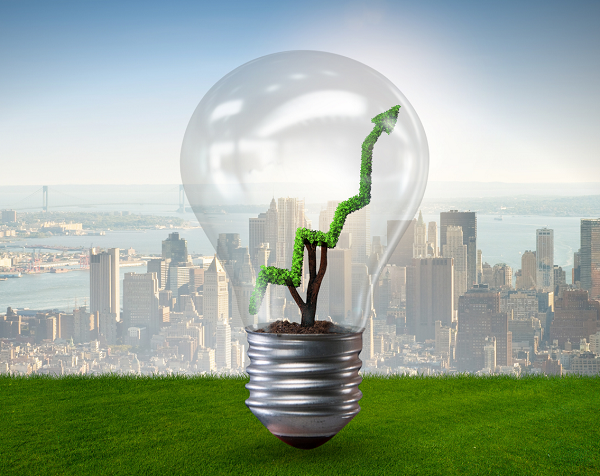 February - A Month in the World of Energy
22 Feb 2021
Published in: Member News
---
and just like that, it was February!
---
Welcome to the second edition of, 'A Month in the World of Energy!'
To recap on last months blog, we provided you with a brief look at the market price movements for the Winter period 2020, ranging between April and August 2020, which turned out to be quite a dramatic ride with the UK Lockdown.
Moving forward we will be providing you with a look back at the month just passed, as well as sharing with you our insights on the month ahead. So, on that note, how did January look?
Well it started on a high…literally. On the 4th Jan the price of power sat around £61.50 /MWh (for the trading period March 21), whilst gas hovered around 55.04p/th (March 21).
Energy prices were impacted by the news that oil output was under threat of being capped in February, meaning there was an uplift in commodity charges, and it was this, as well as the rise in coronavirus cases following a new variant, and below average temperatures, that resulted in higher than anticipated energy prices.
By the end of January things were looking a little mixed, with power ending the month at £62/MWh, 50p higher than it started, while gas dipped very slightly to 54.5p/th.
Overall, January was not the most exciting month but compared to the last blog, this one showcases the movements we see in a single month rather than over a larger period of time, meaning more stability would be expected.
This means that the difference between buying your power and gas for March'21 at the start of the month, against the end of the month was pretty negligible.
And so moving forward to February… The graphs below represent the swing in commodity costs, again for March'21 between 01/02/21-05/02/21 and you can see there were quite significant dips and rises within the case of a few days on both Power and Gas during the first week of Feb, something consumers could take advantage of with the right advice:
Graph A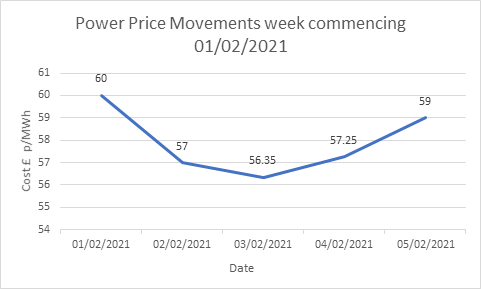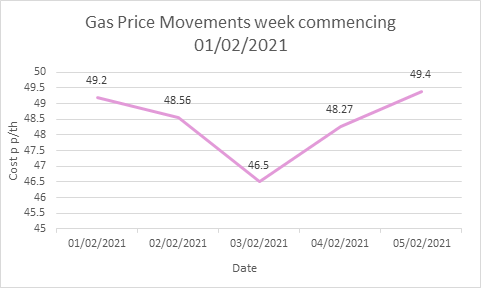 Graph B
Graph A shows that within a 5-day date range (01/02/21-05/02/21), the market appeared fairly stable, with only a £1/Mwh reduction between the 2 dates, however the difference between 01/02/21-02/02/21, saw the market drop by £3/Mwh overnight which equates to a 5% reduction, before steadily rising again.
Whilst a weekly review of prices may have led customers to believe there's been no real movement, a more strategic view involving in-day analysis could have reacted to the 5% drop.
To put that into perspective:
A Manufacturing company using 250,000Kwh (250Mwh) within the month of March'21, if they'd have purchased their volume on 01/02/21, their energy cost would have been £15,000, however to purchase the same volume the following day it would have cost £14,250, which evidences the 5% saving.
If the same pattern was replicated across a 12 month period for the company, it could theoretically achieve a £9,000pa saving by adopting a more strategic approach with a consultant who is pro-actively monitoring the market on a daily basis, rather than offering high level monthly overview.
This is something we pride ourselves on offering at Experienced Energy Solutions and creating a strategy of this nature doesn't have to be time consuming as we monitor the market on your behalf, only making contact when agreed triggers are set and hit by market movement.
To understand more about how this approach could benefit you and your business, please don't hesitate to contact us at hello@experiencedenergy.co.uk or by calling us directly on 0121 274 3573

Submitted by Natasha from Experienced Energy Solutions Limited