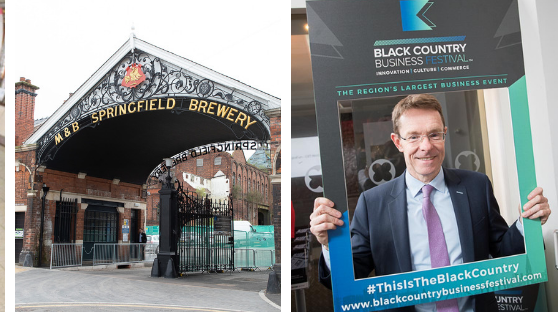 Final countdown to the region's biggest business event
08 May 2019
Published in: Black Country Chamber of Commerce News
---
Excitement amongst the business community is building with only a few days until the start of the 2019 Black Country Business Festival on Monday.
---
Around one hundred key business leaders, politicians, sponsors and media are expected to attend the launch of the second Black Country Business Festival on Monday 13 May at University of Wolverhampton's Springfield Campus.
The breakfast launch will see keynote speeches from Professor Geoff Layer (Vice-Chancellor of the University of Wolverhampton); Corin Crane, (Chief Executive of Black Chamber of Commerce and Industry); Paul Jones (founder of Black Country business, Goodstart Jones); Sarah Middleton (Chief Executive of the Black Country Consortium); Murray Lambell (Vice-President of UK Trading, at Business Festival headline sponsor, eBay - via video) and Andy Street (Mayor of the West Midlands Combined Authority).
Tickets to over 100 free business events in the two-week Festival are still flying out the door. Already thousands of tickets have been booked and many events are already full to capacity.
Tickets are available to anyone on a first come, first served basis through the website www.blackcountrybusinessfestival.com. Nearly every event is completely free to attend!
Business Festival contains events of all sizes and descriptions from, for example, small workshops about recruitment, bid writing marketing and social media to large business trade shows, conferences about women in business and business networking and charity events. Every business will find something that will be beneficial in the Festival.
Corin Crane, Chief Executive of the Black Country Chamber of Commerce, said,
"I am really looking forward to launching our second annual Business Festival on Monday. It also gives us a real chance to celebrate our business, innovation, knowledge and strengths and show what our fantastic region has to offer.
"There are some absolutely awesome events in the programme again this year and I urge everyone to make the most of what's available - and for free, during this exiting fortnight."
Professor Geoff, Vice-Chancellor of the University of Wolverhampton, said:
"The University of Wolverhampton is delighted to be hosting this prestigious opening event to mark the start of the second Black Country Business Festival.
"We pride ourselves on being a place of opportunity for students, staff and businesses that we engage with; developing individuals who are entrepreneurial, eminently employable and well-connected.
"Last year's festival was a huge success and we are proud to be playing an active part in the Business Festival again this year as a partner and also helping deliver a comprehensive programme of events for business and individuals to attend.
"This further demonstrates our ongoing commitment to developing the Black Country's strengths, innovation, commerce, culture and huge investment potential to the rest of the world."
The Business Festival was developed by the Black Country Chamber and it is headline partnered by on-line retailer, eBay. Other partners include: DY5 – Dudley's Business and Innovation Enterprise Zone, Talbots Law, the University of Wolverhampton, Birmingham Airport, Black Country Local Enterprise Partnership and Black Country Growth Hub. Sponsors are Casino 36 and M6 Toll. Supporters are Wolverhampton Racecourse; accountancy firm, Crowe; Wolverhampton Grand Theatre, Think Sandwell, Gecko Programmes and Walsall Council. Media partners are Signal 107, the Express and Star, outdoor media experts, Elonex and Infonote Datasystems. It is run in association with Associate Events.
For more information, to see the complete calendar or to book tickets for events, visit www.blackcountrybusinessfestival.com