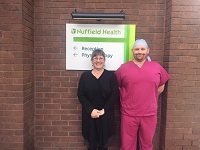 For the Love of Cats and Dogs!
21 Mar 2018
Published in: Member News
---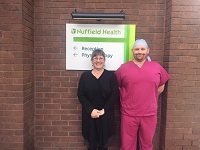 As shown in a recent survey, staff at Nuffield Health Wolverhampton Hospital are very caring. In their lives outside of work, this is very evident too. Theatre porter Jason Cattell is preparing to cycle over 100 miles for Birmingham Dogs Home and Kennels, whilst medical secretary Kim Bailey is fundraising for a local not for profit cat rescue centre.
The February 2018 patient satisfaction survey put the private hospital in Tettenhall at the top of the league table for all 31 hospitals in the Nuffield Health group nationally. A whopping 97% of patients said they would recommend the hospital to friends and family. This year the hospital celebrates 40 years of providing healthcare and across the years, staff remain highly motivated both in and outside work.
---
In mid June, theatre porter Jason, who has only just returned to cycling after a break of 12 months, will cycle 104.6 miles from Wolverhampton to Aberdovey, Wales in a day to raise money for Birmingham Dogs Home, which is solely funded by public support. In addition to support from family, colleagues and friends, which so far has raised £400, the hospital is supporting him in his quest. To donate to the cause please see: www.justgiving.com/jason-cattell
Kim, a medical secretary, meanwhile is raising money for Kats Cradle, a not for profit rescue centre based in Coven, Staffordshire, which rescues, rehabilitates and re-homes cats and kittens in parts of the West Midlands, Staffordshire and some parts of Shropshire.
Cat foster mum Kim says, "I stumbled into fostering cats when little Jesse arrived on my doorstep in the summer of 2015. Now before and after work, my time is occupied with caring for a range of cats who through no fault of their own are in need of shelter and huge amounts of TLC. I converted my summerhouse into a cat pen and since then I've fostered six cats and 14 kittens, several of whom have required medical care. "
On Saturday 28 April, Kim will be fundraising at a table top sale at Springdale Church, Penn, Wolverhampton. On sale will be handmade jewellery, crafts, clothing, bric a brac, cakes and toys. Donations to the rescue can be made via the Kats Cradle fundraising account Barclays Bank (sort code 20-45-45 account number 60078433).
Comments
No comments have been submitted yet.