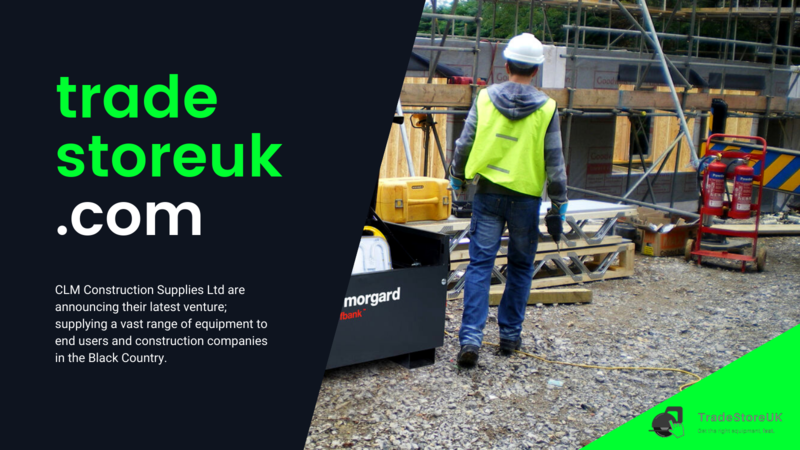 Get the right equipment, fast!
22 Feb 2021
Published in: Member News
---
The latest venture by CLM Construction Supplies - TradeStoreUK.com
---
Get the right equipment, fast!
CLM Construction Supplies have just announced their new venture, Trade Store UK, supplying the best tools and equipment to end users and construction companies across the UK.
Brands such as Evolution Power Tools, Master Climate Solutions and Armorgard Site Security to be available at launch, with many to follow in the coming weeks.
Our team are here to help with any queries, and to help you find the right equipment for your project.
"At TradeStoreUK.com, we aim to provide our valued customers with hundreds of the latest products at incredibly discounted online prices which include power tools, hand tools, accessories, safety equipment, lighting, electrical, heating, cooling, security, storage and access equipment. We work closely with our suppliers which allows us to specialise in the delivering of parcels to DIY enthusiasts, handymen and tradesmen all over the UK, backed up with outstanding customer service which we pride ourselves on - and with Next Day Delivery." - Chris Hughes, Director.
"We believe that being a part of the Black Country is our biggest asset, with the option to stock in bulk with large orders we can supply to Wolverhampton, Walsall, Staffordshire & Dudley with ease, and we are keen to connect with construction companies in need of reliable and affordable equipment suppliers based just around the corner." - Connor Dobson, Commercial Manager.
With an easy to use interface and checkout system, Trade Store UK is the best place to find the most effective solutions for the most competitive price. We want to hear from you!
Please contact us regarding our products, services and your project needs by emailing at sales@tradestoreuk.com

Submitted by Connor from CLM Construction Supplies Limited